For some, switching from a manual to the best computerized sewing machine may seem like nothing but hype.
However, once you see the advantages of using it for just one second your opinion will change.
Computerized machines can do more than control thread tension and stitch on autopilot mode such as higher quality stitches or downloading new programs that allow customization in their work for themselves with connectivity features
Computer-controlled embroidery systems are made up of many functions beyond simply controlling the needle position without human intervention (such as automated bobbin winding) which provide extras not available on simpler hand tools such as pattern recognition software so changes can be automatically incorporated into an existing design.
For beginners and those who want a machine to do the work for them, there are tutorials that come with additional training materials so you can get started quickly.
Consider what kind of sewing projects you would like this new purchase to accomplish before making your selection!
Buying Guide
Tips for Choosing the Best Computerized Sewing Machine
Computerized sewing machines allow you to automate and speed up the process of sewing. They're a great choice for professional sewists, designers, quilters, as well crafters and hobbyists alike!
1. Stitching Options
A computerized sewing machine is the perfect craft tool for those who want to create new and interesting garments or embellish existing ones. They come with a variety of built-in stitches, from standard straight stitching all the way up to decorative embroidery patterns that will make your outfits stand out in any crowd.
Most tailors and sewists are perfectly happy with sewing machines that come equipped with around 60 built-in stitches.
These models have a wide variety of utility stitch patterns to use for any garment, curtain or bedding project you might want to try your hand at.
Not only do they offer six different buttonhole pattern options, but these models also include plenty of decorative stitches like the Blind Hem Stitch so you can add some flair when needed!
Beginners or clothes repair shops could do just fine with an entry computerized sewing machine. These machines have around 20 built-in stitches, most of them for utility and elastic sewing but also some decorative and buttonhole options available.
2. Automatic Buttonholes
Sewing on buttons is tedious, but it is also important. Thanks to computerized machines that recognize the size of your button by using an attachment and feeding data into its system automatically, sewing becomes a lot easier!
3. Overall Automation
Sewing machines are known for being a time-consuming, tedious process. But with the introduction of computerized sewing machines and all their innovative automation features that make every stitch automatic – now you can spend more quality time on what is really important to you in life instead!
High-end computerized sewing machines can do everything from feeding the fabric with no help at all to changing stitching direction without any intervention.
These are great for factories and busy shops, but designers and crafters can also use these automation benefits if they want or need them.
Sure, the more expensive a machine you buy will require less time spent on some things like needle threading or bobbin changes – perfect for those who have designer needs in their profession as well!
4. Connectivity
A computerized sewing machine with a robust connectivity feature set will provide you with the best opportunity to upload new stitch patterns and embroidery designs.
It is absolutely essential for some machines, but not all models are equipped for it. Be sure to consider this before buying your next model!
5. Display
All sewing machines have some kind of display, but if you're looking for a machine designed to sew and embroidery rather than just stitching then chances are the one you get will only be fairly small.
For less expensive models it's usually an old-fashioned control panel with buttons that allow you to make your selections; however more high-end ones come with larger touchscreens – typically 4 by 4 inches – which show much more information and options giving users the chance to edit their monogramming or embroidery designs too!
6. Max Speed and Speed Control
When you are in the market for a computerized sewing machine, there is one thing to be mindful of before making your purchase.
The max speed and how it can control that speed should not be ignored as this can affect what type of craftsman you will become with practice.
There are some digital sewing machines that come with an integrated feature to set the speed from the control panel. This means you can get rid of a pesky foot pedal and save space on your floor!
With the way our modern world is changing, it's not surprising that many new high-tech appliances have taken over in recent years.
Now more than ever before, we rely heavily on gadgets like smartphones for everyday tasks such as communicating or paying bills online – so why should home decor be any different?
Sewing has always been considered one of those artsy hobbies reserved only for skilled seamstresses who take their time creating elaborate garments made by hand out of delicate fabrics, but now there are plenty of great options if you don't want to spend.
In a hurry? Here are our top 3 sewing machines:
Brother SE600 Sewing and Embroidery Machine
Brother Sewing and Quilting Machine, CS6000i
Janome 4120QDC Computerized Sewing Machine
10 Best Computerized Sewing Machine Reviews
Searching for the best sewing machine? If so, you're in luck because we have found reviews that will help make your decision easier! Check out what our team has to say about these machines below.
1. Elna Elnita ec60: Best Computerized Portable Sewing Machine
Swiss-designed Elna sewing machines are recognized worldwide for their build quality and reliability, but the Elnita ec60 is not just your average machine.
Perhaps one of the best-computerized sewing machines around, it comes with 60 preset stitch patterns – six automatic buttonholes included! One of its most useful features? The very clever auto thread cutter makes turning work effortless.
The Elna E-Lnita ec60 is a lightweight, easy-to-use sewing machine with multiple features and functions that make it an excellent choice for any beginner or advanced user.
This model comes equipped with an extended free arm which makes quilting easier than ever before by allowing you access from the side of your fabrics rather than having to lift them up each time like on most machines.
The LCD screen allows users easy navigation through its simplified buttons and menus so even beginners will find this machine simple enough, while more experienced sewers can take advantage of all the different stitch types available including buttonholes!
What You'll Like:
LCD Screen
60 built-in stitches
Extended free arm
Beginner-friendly
What You'll consider:
The number of in-built stitches could have been more for increasing convenience.
2. SINGER Quantum Stylist 9960: Best Singer Computerized Sewing Machine For Beginners
The Singer 9960 is taking sewing to the next level with its 600 built-in stitches. With over 350 accessories and a 13 one-step buttonhole styles, your creative ideas will never be limited again! 850 stitches per minute make this machine fast enough for any project you set out on – so get in there and start stitching now!
Singer 9960 is a dream come true for anyone with an aversion to sewing. This buttonhole maker can create perfect buttons in just one step without any hassle of threading the needle or having to find the right size, thanks to its effortless and consistent system.
The Singer 9960 has an adjustable stitch length, which means you can make it as narrow or wide for your project.
The Singer 9960 is a machine with many functions and features that makes sewing easier than ever before!
Whether you're looking to sew some curtains at home or just whip up something quick in the office today, this versatile device will help get things done quickly without any hassle.
What You'll Like:
Fast stitching speed: 850 stitches per minute
600 built-in stitches
Over 300 accessories
Extended table for beginners
What You'll consider:
Upper case & lower case letters have same size
3. Brother CS6000i: Best Computerized Sewing Machine For Beginners
If you're looking for a sewing machine that's affordable, lightweight, and easy to use – the Brother CS6000i is worth considering. Like Elnita, it costs less than half of what other computerized machines cost but still has all the features professional sewers need!
With 60 built-in stitches including utility and decorative styles as well as seven buttonhole patterns, this beginner-friendly machine will have you up and running in no time.
The Brother CS6000i offers a wide variety of features, making it one of the best-computerized sewing machines for beginners or sewists on a budget.
Four intuitive navigation buttons and an easy-to-read 2-inch LCD screen make this machine dependable enough to tackle short jobs but versatile enough to handle any size project with ease.
Nine different feet allow you to use your imagination when creating anything from garments to home décor items; while an automatic needle threader eliminates tedious manual work.
The Brother CS6000i is perfect for those who are looking for both affordability as well as quality in their next purchase!
What You'll Like:
60 built-in stitches
Automatic Needle threader
Protective case
Comes with an extended table
Drop-in Bobbin
LCD Screen
Jam resistant
What You'll consider:
Not Sturdy
Does not work well with heavy layers
Also Read: Brother CS6000i Review
4. Janome 4120QDC: Best Computerized Heavy Duty Sewing Machine
The Janome 4120QDC sewing machine is a great computerized option for those who want versatility. It offers over 120 built-in stitch patterns that can be used in a variety of ways, from decorative to utility.
This sewing machine is perfect for anyone who needs a wide range of projects done, from monogramming to quilting and everything in between. It even has an automatic needle threader so you can save time on tedious tasks!
This versatile sewing machine features to speed up to 820 stitches per minute with precision tension dials; it's the ultimate all-in-one solution for busy environments or high-volume work.
What You'll Like:
120 built-in stitches
Jam Proof easy set top loading bobbin system
Automatic threader cutter for top & bottom
Removable extension table
High speed with 820 stitches per minute
Automatic needle threader
What You'll consider:
Not good with customer service
5. Brother CS5055: Best Brother Computerized Sewing Machine
The Brother CS5055 is a versatile machine that can be used by beginners or seasoned home users.
The 60 built-in stitches are more than enough for most needs, and it even includes some features usually only found in higher-priced machines such as the ability to stop the needle at either up or down position which makes quilting bulky fabrics easier on your hands!
This sewing machine is a great choice for beginners who want something reliable but don't want to break the bank. Sure, it's not as flashy or fancy compared to some of its higher-priced counterparts, but that doesn't mean you won't get quality work done with this little beauty!
The best thing about getting advice from experts like us at Sewing Machines Today? You can be confident in your purchase without breaking your budget.
The first highlight we wanted to share was how easy and reliable this unit proved itself during our testing process: convenient features such as an included LED light come standard on the CS5055 so no matter where you are – whether inside or out – spotting mistakes will never again have been easier than.
What You'll Like:
60 built-in stitches
Automatic needle threader
7 sewing feet
Easy to use
LED lights
6. Juki HZL-LB5020: Best Cheap Computerized Sewing Machine
Juki sewing machines are known for being dependable and easy to use. But there is another option if you're looking for high-quality stitching at home- the HZL-LB5020 from Juki!
This unit has all of your basic needs in a computerized machine, but it's also durable enough that it can stand up against heavy usage without breaking down.
The Juki HZL-LB5020 is a sewing machine that has fewer stitches than the average machine, but it comes with all of your most important ones.
The utility and decorative options are also available to you in this model so there's still plenty for you to choose from.
What we really like about this machine though is how easy to use it is! You won't have any trouble changing stitch length or anything else because the Singer does everything automatically.
You'll get all the modern features you need for sewing on a computerized, dependable machine. As we mentioned before, it may not be as cheap as some of its counterparts but if your clothes repair shop is in need of quality and reliability then this model will live up to expectations!
What You'll Like:
20 Built-in stitches
LCD Screen
Automatic needle threader
7 point feed dog system
Free arm sewing
Lightweight
Variable speed override
Drop-in bobbin system
Budget-friendly
What You'll consider:
Cannot adjust presser foot pressure
No extension table provided
7. Brother SE600: Best Computerized Sewing Machine For Fashion Designers
The Brother SE600 is the best-computerized sewing machine for fashion designers, sewists, and hobbyists who want to use their unit for both sewing and embroidery.
With 108 built-in stitches as well as 80 different designs that can be embroidered on it with ease; this automatic stitching system doesn't have a high price tag either!
Our favorite feature of all has got to be the extensive editing features like changing thread colors or adding lettering in an arc – not only are these options great but they're also easy to thanks to convenient button placement.
The wide range of utility patterns when stitched is just another fantastic detail about this design marvel which was created specifically for us creative types out there!
Another thing we like is the big LCD touchscreen that makes it very easy to select the design or pattern and bring any changes. The screen also has a foot pedal, so you can control everything with your feet – which could be handy for those who are short on space in their workspace.
At 720 stitches per minute, this sewing machine isn't going to win awards for speed; but if you have higher-quality projects such as embroidery work coming up soon then put this one high up on your list of machines worth considering!
What You'll Like:
80 built-in designs
Automatic needle threader
Drop-in bobbin
108 built-in stitches
720 stitches per minute
LCD Touch Screen
Both Embroidery & Sewing machine
What You'll consider:
Not User Friendly
Technically Complicated
8. SINGER 7258: Best Computerized Sewing Machine Under 200
Nicknamed "the Stylist," the SINGER 7258 is one of the best choices for tailors and fashion designers. The most remarkable feature is its high number of built-in stitches – 100, 70 being decorative.
Besides these utility and elastic stitches are also included as well as six 1-step buttonholes to make sure your clothes look good every time you wear them!
Like other modern computerized sewing machines, this model requires no prior knowledge in order to use it successfully; highlights include an automatic bobbin winding clutch that makes threading a snap and even lets you choose from 13 needle positions so adjustments can be made with ease when needed!
What You'll Like:
Push-button stitch selection
100 built-in stitches
25 years warranty
13 needle positions including twin needle
See-thru bobbin case
What You'll consider:
Noisy
Navigation is time consuming
Also Read: Singer Stylist 7258 Review
9. Janome 3160QDC: Best Janome Computerized Sewing Machine
If you're looking for a sewing machine that will last, the Janome 3160QDC might be your best bet. It has all of the features one would want when starting their own business, and its quality is superior to other machines on the market.
The Janome 3160DC is a sewing machine that has 60 built-in stitches and six buttonholes.
It's perfect for clothes repair shops, bags, shoemakers, or other businesses without decorative stitch options as it comes with half the amount of these features versus its bigger brother – the 4120DC.
The price tag isn't steep either; this one costs less. Design-wise, it's relatively compact so can fit well in smaller spaces like those found at professional use stores such as clothing repair shops or shoemakers.
But unlike them doesn't come with an extension table which must be purchased separately if needed to accommodate larger projects due to lack of space onboard storage area nearby while they do have ample onboard storage compartments.
What You'll Like:
60 built-in stitches
Automatic needle threader
Threader cutter button
820 stitches per minute
Built-in storage space
Comes with an extension table
What You'll consider:
Lighting is dim
No knee-lift
No walking foot
10. Janome C30: Best Basic Computerized Sewing Machine
The Janome C30 sewing machine is a great choice if you are on the lookout for an affordable yet versatile option. This inexpensive model has 30 built-in stitches, as well as utility and decorative patterns that can be chosen from in addition to buttonholes.
The Janome C930 sewing machine is simple and easy to operate. It's perfect for beginners or experts on a budget who want an excellent first choice in their arsenal of machines.
There are many features that make the operation process easier, such as speed control, needle up-or-down stop mode, reverse function with locking stitch selection option—the list goes on!
The user can also depend on this reliable last-generation computerized sewing machine due to its LED light and drop feed functions for quilting projects (which I will detail next).
The artistically inclined individual does not have to worry about being left out from using this versatile device because it has so much more than just stitching capabilities; one needs only look at how easily you could.
What You'll Like:
Removable storage compartment
30 built-in stitches
Easy convenience
LED Lights
Simple control panel
Fast sewing speed
Material feeds smoothly
Free arm capable
What You'll consider:
Soft cover is not high quality
Not suitable for thick materials
Some folks feel that you cannot make a very long stitch
2. Automatic Buttonholes
Sewing on buttons is tedious, but it is also important. Thanks to computerized machines that recognize the size of your button by using an attachment and feeding data into its system automatically, sewing becomes a lot easier!
Overall Verdict
Computerized sewing machines are like magic wands for individuals who cannot sew and embroider.
These devices come with a few in-built automatic features that make them way better than their mechanical counterparts which need an understanding of the machine as well as the art of sewing to be able to use it efficiently, according to our research SINGER 9960 Computerized Sewing Machine is hands down the best-computerized device in today's market at this moment.
If you want more freedom from your current stitching or just have occasional rips while doing repetitive stitches on clothes then these machines will help you fix those without even having any expertise about how they work!
Frequently Asked Questions
Can all computerized sewing machines do embroidery?
Not every sewing machine is capable of embroidery, but many modern models do. In fact, almost all the recommended models on our list have some degree of embroidery capability.
Will my kids be able to use it?
Kids can have a lot of fun sewing and creating their own projects, but it's important to be careful when teaching them the basics. There are different types of machines out there that offer features like easy-to-use stitches for children or even ones designed especially for kids!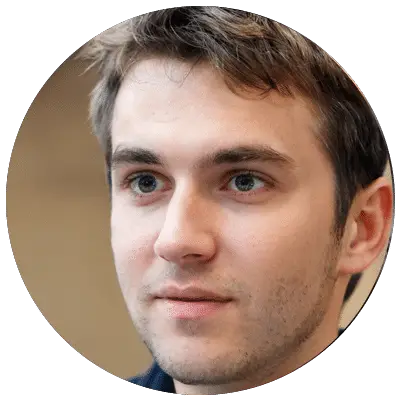 Henry Leo (Founder)
Henry Leo has a Master's Degree in fashion Designing & has worked as a test analyst in textiles. He is a regular writer for websites & magazines.