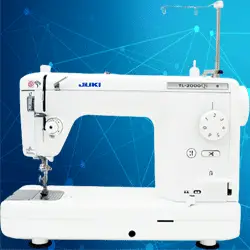 The Juki TL-2000Qi review will help you understand why it is a high-quality option for those who prioritize the strength of their stitches over anything else.
It's on the line between industrial and home machines, so it would be great for sewers with specific projects in mind as well as be an excellent companion for another more versatile machine.
The Juki TL-2000Qi is the epitome of quality and performance. The price tag reflects this, but if you've got some money to spare then it could be worth checking out!
In a hurry, click here to check the Price of Juki TL-2000Qi On Amazon
Juki TL-2000Qi Sewing & Quilting Machine Review
Juki: The Company
Juki is a brand that has been around for decades and specializes in industrial machinery. They've recently ventured into home sewing machines, which makes them an all-around great choice if you sew at home!
Juki has been around since the 1930s in its native Japan. Now, it is a global powerhouse of manufacturing with offices and dealers all over the world. It's no surprise that they're known for their durable machinery given just how long they've been at this!
The Look
With a sleek, white design and wide throat space, the TL-2000Qi can easily fit in with any modern-looking room.
Despite its industrial qualities, it is not too bulky to move around from one place to another but be prepared for some heavy lifting if you plan on traveling anywhere outside of your home!
The Juki TL-2000QI boasts sturdy metal parts which make them resistant to breakage or malfunctioning; as well as an entirely manual control panel that ensures no delicate computerized mechanisms will ever go haywire again.
[table id=41 /]
Juki TL 2010q's Top Features
Automatic Needle Threader
One of the best features that this sewing machine has is its automatic needle threader, which saves beginners a lot of time and effort.
It's not always very intuitive to use, but luckily the user manual offers detailed instructions on how it works so you can get started right off the bat!
The Juki TL-2000Qi comes with an automated needle threading system; because we found out about it from reading through our manual firsthand before using it for ourselves.
Learn How To Thread Juki Sewing Machines:
Needle Up & Down Controls
Quilters rejoice — these automatic controls for the needle up/down positions make it easier to turn corners and end seams evenly. Not only can you manually raise or lower your needle, but with this setup, there's no need!
This product saves a lot of time as well; not using an embroidery hoop is much quicker than having to sew around one every time.
Automatic Thread Cutter
The thread cutter is a lifesaver for those who are constantly sewing and need to cut threads quickly. It has its drawbacks, but the foot pedal design makes using this tool easy!
Thread Tension Adjustment
With the turn of a dial, you can tailor your sewing experience to suit any material or thread.
Easy Presser Foot Pressure Adjustment
The presser foot can be adjusted by a regulator that makes it easy to get perfect pressure. This is really handy for adjusting according to fabric type, giving you an adjustable and personalized sewing experience!
Stitch Length Control
If you are looking for a versatile and dependable machine, the lockstitch machines like this one will not disappoint.
With features such as the dial on the side of your new best friend that can adjust the stitch length to 1-6mm, it is an invaluable tool in any sewing room!
Raise & Lower Feed Dogs
Drop Feeds allow you to take on more complicated stitching projects that would otherwise be difficult with a regular machine. T
his feature is ideal for turning curves in your stitch work and delicate fabrics that you may not want to run over the rough grooves of the feed dogs.
Whatever the case, they can quickly and easily be lowered out of the way – freeing up space below them while still allowing for use or non-use as needed!
Roomy Bobbin Case
The newly-designed bobbin case is larger and features a convenient latch to make it easy for you to take out your bobbins. Gone are the days of struggling with stubborn cases that refuse to release their contents!
Ideal for Free Motion Quilting
For free-motion quilters, the Juki sewing machines are one of the most popular options on the market. The feed dog can be raised or lowered with a simple press of a switch and dropped for those curved stitches that make your projects really stand out.
Juki's machine is four times more precise than other models which helps guarantee straight seams even in tough-to-reach places like corners were working extra hard to sew by hand often leaves uneven edges behind.
LED Lights
The LED lights are great for those with poor eyesight but if you're working in a poorly lit room, consider bringing along the machine and your sewing projects to an area that's well-lit.
Accessories
The following accessories come with the Juki Sewing Machine. Let's have a look:
Standard Presser Foot (Part No. A9836-D25-0A0)
Even Feed Foot (Part No. A9811-D25-0A0)
Foot Controller
Auxiliary Table
Exclusive Screwdriver
Screwdriver (Small)
Sewing Machine Cover
Power Cord
Cleaning Brush
Bobbins (4)
Oiler
Needle Set
Spool Cap
Warranty Card
User Manual
Pros & Cons
What You'll Like:
Incredible sewing speeds of up to 1,500 stitches per minute
Semi-industrial grade quality
Extension table provides lots of space for big projects
Great for quilting
Easy to use
The automatic needle threader is a nice feature
High powered LED lights illuminate the area
What You'll consider:
Price tag
Only one stitch type
Overall Verdict
The Juki TL-2000Qi sewing and quilting machine is a workhorse — very fast, capable, and high value.
It associations the abilities of both industrial and home sewing machines for a machine that will be good about old for quilting or other projects which need just straight stitches.
Despite its excellence though, it's not really an appropriate device to get new sewers who want something flexible as well – this might only be used by hobbyists or those looking specifically for such features in their product.
Nevertheless, when you are ready to invest in your first real sewing/quilting machine then look no further than here!
Anything missed? Check out reviews & prices on Amazon.
Frequently Asked Questions (FAQs)
What is the difference between Juki TL-2000Qi & Juki TL-2010Q?
The Juki TL2010Q is a new machine that has become one of the most popular models in its class. It's an excellent choice for beginners thanks to its speed control settings, which allow you to easily adjust your sewing speeds during operation with just two buttons on the front panel.
For those who are looking for more advanced features, like needle position adjustment or thread tension adjustments then this model may not be ideal."
How is the Juki at winding bobbins?
The Juki TL-2000Qi was designed to wind bobbins with precision. The motor is powerful and can handle even the thickest of threads without any trouble at all!
The Juki TL-2000Qi is a heavy-duty sewing machine that can sew through any fabric, including nylon and denim. You know what they say: "no job too tough for the mighty Juk."
Does the machine come with a walking foot?
The Juki TL-2000Qi is a sewing machine with an included walking foot.
Can the Juki sew leather?
The Juki is a great sewing machine for leather! It has industrial strength and can handle nearly any type of fabric.
Can you use this machine to easily quilt a queen-sized quilt?
Yes, you can. We've also written a review about the best sewing machine for free-motion quilting here.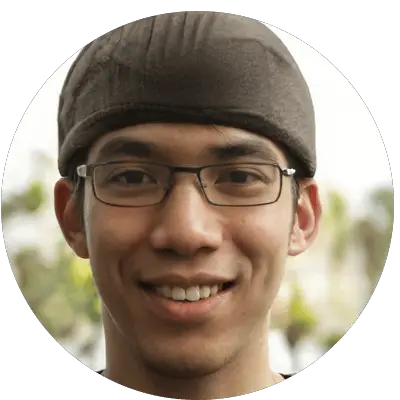 Albert Mark
Research is the key to producing good content. Albert Mark loves to write research-based articles. His articles cover topics ranging from sewing machine problems & solutions also how sewing is a great hobby that helps in fighting against depression. Albert's strength is that she can write about anything.