Are you looking for the most expensive sewing machines? If you want the best sewing machine, save your money and buy a quality one.
The question of whether or not we should buy the best sewing machine that we can possibly afford is a tricky one to navigate. The answer depends on many different factors, though, most notably depending on the type of sewing you hope to do with your chosen machine.
Most Expensive Sewing Machines At A Glance:
Why Are Sewing Machines So Expensive?
At first, we were going to buy the cheapest sewing machine from our local store or online, but after asking some friends who work as tailors and seamstresses, we concluded that it was a good idea to purchase a more expensive model instead. 
We're glad we asked because they helped us realize that it's not necessarily all about how much you pay for a machine (which can be considered an investment in some cases), but also its features and capabilities, which is something that'll make all the difference in what you plan on doing with your sewing machine.
Main Features
First of all, let's get one thing straight – most sewing machines in the $100–$200 range are fine for regular consumers like you and me. We just want to ensure that we know what it is we're getting into and that it's second-hand from a reputable brand.
There are times when a low-end machine just won't do. While these machines have fewer available options, they may offer some features that are too important to pass up. 
For example, low-end machines feature built-in stitching styles of about 30 varieties as opposed to the hundreds that pricier machines offer. They likewise feature various sewing settings like embroidery and button sewing.
Even the best pocket-size sewing machines are still mechanical. Digital displays and advanced capabilities like memory skills and computer assistive programming tend to come with pricier models, not lower-cost ones.
So since most people aren't looking for digital quality in a machine they won't pay more just because it's "easier."
Type Of Machine
There are dozens of types of sewing machines out there, but the selection can be a bit overwhelming. With all of the different brands and models available, who would have thought that they all came in such a variety in both size and cost?
Electronic machines are generally more expensive than mechanical ones, but they're more reliable and can be easier to use when you want well-made hems flawlessly. LED screens and touchpads take the place of stitch width and length wheels.
These can also be used for sewing stretch fabrics like lycra as they don't have a limit on the number of stitches it can sew at one time. Still, the most expensive machines are the ones that can handle regular sewing AND embroidery.
Some of these models have what is called internal memory which can be expanded by way of adding more memory cards, CDs, or USB sticks — and some of them even allow you to connect them to your computer!
These features allow it to store and execute the designs that you create in addition to editing and saving them.
Along with standard sewing machines, there are now even more advanced gadgetry options for aspiring seamstresses who want to take their skills to the next level.
Although there may be an initial learning curve involved, those who have access to expensive gadgets really do see results go from multiple large parts other brands understand why people want to get one of the most expensive sewing machines on the market.
After a brief adjustment period, they win over even the most traditional seamstresses. They're just better in every way!
It might take a few dozen drops of oil to lubricate the various components of your machine and while they are not too likely to break as compared to a cheaper model, they're also more difficult to maintain.
If your sewing machine breaks down both you and it will have to suffer. There are multiple large parts that can be easily damaged if you don't know how to work with them correctly: the electronic screen or touchpad for example.
Luckily, with most newer machines these days you can find repair policies and warranties. But don't forget about the other things that make high-quality sewing machines expensive! That's why we think that these are some of the most important factors of sewing machine longevity:
Expensive Sewing Machines Brands
Among sewing machine manufacturers, Brother and Singer have been gaining popularity in recent years because of their innovative features and the quality of products they've been producing over the years.
However, even though their products have always been considered top-of-the-line and widely used by professional tailors, there are also other brands that are catching up quickly. Please let us take a moment to introduce you to brands like Bernina, Juki, Viking, and Janome!
These brands have actually been around for decades. This brand, Janome, has been around since 1918! But they weren't famous in the United States until recently. Now they happen to make some of the most extravagant sewing machines on the market.
Also, back in 1971, they were the first company to create a programmable home sewing machine. Then in 1990, they came out with an embroidery machine that was sold in homes!
Different sewing machine makers offer their own improvements on their machines. Some brands that are not popular, such as SVP, Husqvarna, and Singer have great qualities which make them stand out!
Most Expensive Sewing Machines
Today, we're going to talk about six of the most expensive sewing machines in the world that you can find today and whether or not you should invest in one.
Whether you are a sewing enthusiast looking to try your hand at something new or an experienced seamstress who knows their way around a needle and thread, these products can help you make fantastic clothes with the least amount of effort.
Without Any Further ado, let's have a look at the most expensive machines in the world:
Brand: Juki
Dimensions: 48 x 36 x 48 inches
Weight:  250 Pounds
Electric: Yes
The Juki MO-6714S is a great machine, first and foremost. And before we go any further, let us just say having a two-needle, four-thread overlock machine is something you should consider if you are considering purchasing another option. 
Why? Well, this particular model will give you a maximum sewing speed of 7000 stitches per minute and can even handle length settings that range anywhere from 0.8 to 4 mm effortlessly.
It has been specially made for stitching menswear and assures placid, vibration-free operation.
Also, keep in mind, that it's made in Japan! Despite the cost, Juki-MO is aimed at professional use meaning it's made to last quite long. 
What You'll Like:
The Juki MO-6714S industrial serger consistently earns high ratings for its ease of use.
The top speed on this model reaches up to 7,000 stitches per minute.
The specially-designed Servo motor ensures quiet, vibration-free operation.
What You'll consider:
It can only be used with DC X 27 needles.
Brand: Juki
Dimensions: 48 x 36 x 48 inches
Weight:  80 Pounds
Electric: No
Another excellent machine is known as the DNU-1541 from the leading company Juki. It offers a more efficient way to sew materials at a greater pace without gathering excess stitches in your work. 
This model comes with safety features that protect the machine itself and its user in case of a mishap.
The motor is lighter than a regular clutch motor, and it uses 90% less power than what's used on other machines. It runs smoothly even when one steps hard on the pedal.
Though it can't handle as many stitches per minute as other industrial sewing machines in its class, the Singer Heavy-Duty 192K Sewing Machine is a favorite because it can handle medium to heavy fabrics making it a great machine for both experienced professionals and new apprentices alike.
What You'll Like:
Has a self-lubricating system; no more oiling your machine!
Quiet to operate
Best for both lighter or heavier fabrics
Strong industrial design
What You'll consider:
Oil maybe sometimes spill out quickly
Brand: Janome
Dimensions: 30 x 30 x 30 inches 
Weight:  62.7 Pounds
Electric: Yes
Janome Horizon is another sewing machine produced by a Japanese company and is the latest addition to their top-end Memory Craft Sewing Machine collection.
It comes equipped with 400 built-in stitches and 350 built-in embroidery designs. 
It has 11 fonts of monogramming capability as well, ensuring flawless embroidery on garments, home decor items, quilts, and more. 
The maximum hoop size supported by this model is 9.1" x 11.8" and it also features a maximum stitching speed of 1,000 stitches per minute, which makes it ideal for completing larger projects within a short space of time!
Additionally, the LCD screen's vivid touch interface makes creating, editing, and working on projects quite simple. 
With 13 one-step buttonholes and an array of stitch composition programs available to choose from, it's ideal for both crafters who'd like to design their patterns and those with a more artistic mindset. 
Free motion quilting is made even easier as well with the Variable Zig Zag function that allows users to take their projects to new levels.
What You'll Like:
High-quality top of the line machine
Does everything in sewing, quilting, and embroidery
No negative reviews
What You'll consider:
Does not have wireless ability to connect with the internet
Brand: Juki
Dimensions: 48 x 20 x 48 inches
Weight:  250 Pounds
Electric: No
Juki LZ- 2280N is an industrial sewing machine from Juki.
It's one of the best single-needle sewing machines with a maximum speed of 5500 stitches/minute that produces subtle joint consistency from there being applied low pressure on the fabric being sewn.
This machine is indeed fascinating, as it is only capable of creating zig-zags that are perfect for light to medium-weight textiles. This is because the needle rocking mechanism contains a triangular cam that helps craft seam allowances with a softer finish.
What You'll Like:
High-speed sewing machine with max 5500 stitches/minute
Comes with industrial clutch motor 110V
Zig Zag Max size is 5mm
What You'll consider:
Only have a zig-zag stitch
Brand: Juki
Dimensions: 33 x 23 x 11 inches 
Weight:  37.9 Pounds
Electric: No
The Juki TL-2200 comes with an exclusive automatic under-bed thread trimmer that is reached by the extension table – thus providing convenience to the user while delivering quality work.
A machine that provides you with quality work, lasts for a long, too.
The dimensions of this machine are (L*W*H) 33 x 23 x 11 inches but you can make it bigger as per your choice.
The machine might give you a classic look but the LCD touchscreen control panel lets you adjust the needle position, foot pedal control, screen brightness, speed, etc.
So it's basically like a regular computerized machine that also comes with its topiary handwheel for extra control when needed which is particularly nice for new or inexperienced users.
What You'll Like:
This heavy-duty machine, built to work well and keep working for years.
It comes with an adjustable table
This machine has amazing features including an automatic thread cutter, automatic bobbin winder 
The machine comes with LED dual-directional lighting
What You'll consider:
Minimal assembly instructions
Also Read: Juki TL 2200QVP-S Review
Brand: J & C
Dimensions: 59 x 40 x 38 inches 
Weight:  9 Pounds
Electric: No
Now meet the latest and greatest sewing machine available on today's market!
JC Machinery and Tools Inc. have designed a machine they're calling their Silicone Edge that uses silicone strips to create hemming seams on banners, signs, digital textiles, and more. 
And what's so cool about this new design is it eliminates ruffling completely leaving you with clean flat junctures every time.
The machine is particularly good for large format or heavy fabrics because its size allows for faster production time as well.
Its speed of 66 feet is enough to make a blanket in minutes. This huge machine can knit blankets that are up to 59 inches and 40 inches wide and eight inches thick. 
Not only does it have an electrical blueprint, but it has an automatic one too so you don't have to worry about having a knitting pattern go on a hiatus.
The blueprints are very credible and secure, justifying the $118 million a lot of people spent on this product!
What You'll Like:
Specialized machine for Banner Hemming 
No special training required for operators
Durable electrical and mechanical designs are safe and reliable 
Frequently Asked Questions(FAQs)
Which sewing machine brand is the best?
When considering the purchase of a sewing machine, one of the first questions to ask oneself is "What will I be using my sewing machine for?" Different machines are designed and priced differently, and some are better suited to precise work than others.
The only brand that is backed by millions of pleased customers is Singer.
The singer has always been taking care of its customers by consistently bringing out new products that are easy to use and now available at different price ranges so that everyone can go out and buy one.
Are expensive sewing machines worth it?
It depends on what kind of computerized machinery you have in mind. If you're looking forward to embroidering and hemming a lot of cloth or working with decorative stitches, it may be worth the price because some built-in stitches can be useful in the long run.
But if you are just a simple seamstress, crafting your hobby as a stitcher rather than as a freelance tailor or artisan, then expensive sewing machines are probably overkilling.
How much should I pay for a decent sewing machine?
When a beginner is willing to buy a sewing machine, they generally spend lesser than $500. Machines that are good enough are also available in approximately a thousand price range or above.
Also Read: Best Sewing Machines Under 500
What is the rarest sewing machine?
A Turtle-Back Singer is the rarest model. It was made in the late nineteenth century by Singer but company and was produced in large numbers.
Final Thoughts
For many people, sewing offers them a way of showing off their imagination and depth. They utilize the skill of sewing in order to display and share their talent.
However, in the contemporary era of advanced technologies, even the best ones need the right tools to accomplish their tasks stably while stepping into the competitive field. It gets hard if one isn't updated enough. 
For example; anyone trying to flourish in the apparel section needs to know about the best machines with impressive features that can be used for stitching and making clothes as this is one of the areas where clothing is a booming business today. 
Not necessarily that only expensive ones are good but with high prices, these machines offer outstanding results with accurate predictions – which is why it's vital to collect as much relevant information before deciding on what machine will work best for you!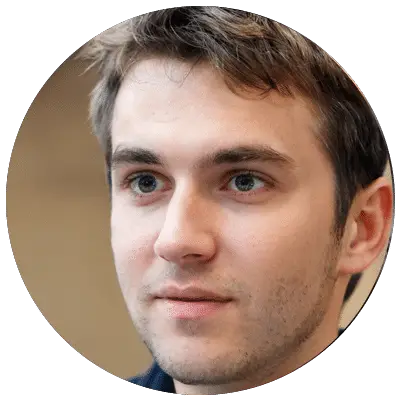 Henry Leo (Founder)
Henry Leo has a Master's Degree in fashion Designing & has worked as a test analyst in textiles. He is a regular writer for websites & magazines.