The Singer 14T968DC is a Professional serger sewing machine that offers the ability to sew at 1,300 stitches/minute.
With four-thread capabilities and five stitch options, this high-quality piece of equipment will help you finish your projects in no time.
Singer 14T968DC Review in 2023
Let's have a look at the Singer 14T968DC Review in Detail.
About Singer 14T968DC
The Singer Professional 5 14T968DC is a sleek, top-of-the-line serger.
The three-needle chain stitch allows it to give the appearance of cover stitching like on t-shirts and jeans but with more versatility than your average sewing machine or overlocker (serger).
It has 3 looper threads which means that this provides an extra level of safety by preventing any raw edges from showing up in between stitches; if one thread breaks then there are still two others working together instead.
This also makes it perfect for dressmaking especially when combined with its trimming knife feature – cutting away excess fabric so you can get even closer to those tricky corners!
The singer has created a machine that can handle all sorts of different fabrics. It also comes with helpful features to make it easy to use, which we'll talk about soon!
[table id=49 /]
Top Features
If you're an experienced sewist looking for a 2-3-4 cover stitch serger, the Singer 14T968DC could be a great choice. Not only is it powerful and fit for a wide variety of purposes, but if you choose your retailer wisely, you could also land a real bargain.
But what should you look for in five thread sergers? Here are some features we think everyone needs:
Differential Feed
Sergers are an extension of your sewing machine, allowing you to finish seams very quickly. A differential feed mechanism allows for speed control between the two sets of feed dogs that move the fabric through your serger.
It's important to note which appliances have them and those that don't if this is something you want in a future appliance purchase or replacement due to wear on another one's original equipment."
If you want to use a serger on different types of fabric, especially stretchy or elastic fabrics, then it's important that the differential feed range is 0.5-2.5 (instead of 0.7-2).
Built-In Rolled Hem
The rolled hem adds a classy edge to the fabric. It's especially popular for scarves and light fabrics, but it can be used on anything you want!
If your serger has the option of making this stitch, look in its manual or ask someone who knows machines well how to adjust parts so that they'll make a rolled hem.
Otherwise, there are some professional-level sewing machine brands out there that have their own custom settings just for creating beautiful hems like these ones.
Stitch Width Adjustment
When adjusting stitch width on a serger, some models may require you to use either screwdrivers or special tools. This can be frustrating for beginners who are not sure what they're doing. Other machines have selection knobs that make the process much easier and less intimidating!
Trim Trap
If you have a serger, it is important to look for one with an attached trimmings tray. This will keep the loose threads from getting all over your lap and on top of your sewing table so that they don't get in the way as you sew.
Generous Stitch Selection
The Singer 14T968DC comes with 14 built-in stitches. This is a decent number, and comparable to other higher-end sergers. The Singer also has an option for chain stitching that many others don't have.
Auto Tension Adjustment
The Singer Professional 5 14T968DC automatically adjusts your thread tension to ensure you create the perfect stitch. Whether it's a straight or zigzag, this machine does all of the work for you so that nothing stands in between your creative process and success!
Handy Stitch Map
With Singer's colorful stitch map right on the machine, you'll know exactly what needles and loopers to use for every type of stitch. This makes it easy to create all sorts of stitches with just one design!
Speed Control
The Singer 14T968DC allows you to set the machine's maximum stitch speed below 1,300 stitches per minute. Not many sergers allow this feature, but we appreciate it here at Machine Knit Quick.
Heavy-Duty Metal Frame
The Singer heavy-duty metal frame is a nice addition to the machine because it adds stability and increases durability. This allows for thick fabrics that are commonly used in sewing projects such as denim jeans or drapery panels.
In particular, 2-3-4-5 sergers use many threads at once so they're great choices when working with thicker materials that demand more stitches per inch of material!
Soft Cover
The sewing machine comes with a soft cover that helps to keep your machine dust-free when you're not using it.
Accessories
Accessories that come with the Singer 14T968DC, include:
General-purpose foot
Elastic foot
Blind hem foot
Shirring foot
Beading foot
Cording foot
Taping foot
Screwdrivers
Trim trap
Extra knife
Spool caps
Thread nets
Oiler
Brush
Serger tweezers
Cone adapters
Two-thread adapter
Soft dust cover
The Warranty
Singer offers a 25-year warranty that covers manufacturer defects, 2 years on all electronic components, and 90 days for parts or labor.
Pros & Cons
What You'll Like:
2-3-4-5 thread sewing
Auto thread tension
Triple-needle
4 built-in rolled hems
14 built-in stitches including a chain stitch
Heavy-duty frame
Generous accessories pack
Exceptional value for money
What You'll consider:
Maybe a bit complicated for serger newbies
Alternatives To The Singer 14T968DC
We really like this machine because it has a lot of features that are hard to find on machines at its price point. However, there are other sergers and cover stitch machines out there with different available options which may suit your needs better.
Brother 2340CV Coverstitch Serger
Brother is known for producing high-quality machines at a reasonable price. The Brother 2340CV is no exception, as it has most of the same features as the Singer 14T968DC but half its cost. For example:
The speed on this machine runs around 1,100 stitches per minute
However, they have made sure to include important features such as a heavy-duty metal frame and chain stitching function.
A great alternative to a high-end cover stitch serger, the Brother 1034D Serger has multiple features that make it perfect for home and light commercial use.
Bernette B42 Funlock Coverstitch Machine
The Bernette B42 is a cover stitch-only machine that has all the features you might want on such a device but at an affordable price.
This quality and inexpensive model from Bernina could be perfect for beginners or those who don't need as many options in their sewing machines.
Singer X5004HD
A new Singer serger, the Singer X5004HD is a great machine for beginners and casual sewists. It has two needles, two loopers, and no chain stitch which makes it high quality but not particularly complicated to use at an exceptionally fair price.
Overall Verdict
The Singer Professional 5 14T968DC is a unique combination of fabulous features, including five-thread stitching, auto tension, and heavy-duty construction. On top of that if you do your research you can find it for less than expected.
This complicated piece may not be ideal for everyone due to the steep learning curve but could end up being your sewing room's new best friend.
Anything missed? Read Singer 14T968DC review on Amazon Now.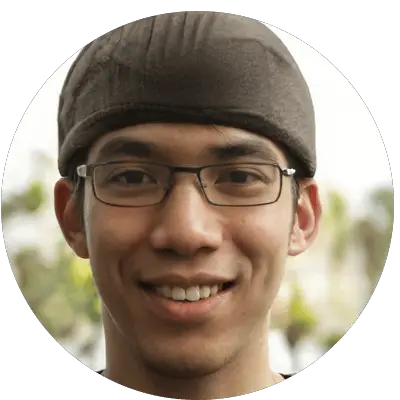 Albert Mark
Research is the key to producing good content. Albert Mark loves to write research-based articles. His articles cover topics ranging from sewing machine problems & solutions also how sewing is a great hobby that helps in fighting against depression. Albert's strength is that she can write about anything.