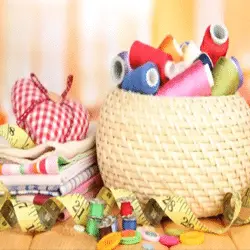 Hey All, today we are gonna discuss types of sewing thread. How do you know what kind of thread is used for different fabrics?
What kinds of threads are available in the market for sewing? What different features do they have? How to select thread based on thickness/weight and fiber to finish your project.
Thread has immense importance since the inception of early societies. It helped in preparing environment-friendly outfits that not only prevented them from harsh winters but also turned them agile enough to chase their prey.
The importance of thread yet can't be underestimated in modern societies where almost everything has transformed into its completely new form.
However, threads have become the core ingredient used in the garment and fashion industry. It comes in versatile forms and types to perform multiple functions. Here you can review some of its commonly used types to enrich your knowledge about sewing, seaming, and embroidery.
Common Types of Sewing Threads
When it comes to different types of sewing threads one can associate them with the functions they are performing.
For instance, some are designed to serve in the glamour and fashion industry, whereas some are mainly for artistic work and some have special cultural recognition. Let's explore them all on a single piece of paper.

1: Cotton Thread
Cotton thread is the best suitable type of thread for basic sewing that helps you in getting tight and perfect seaming. However, you can also use cotton thread for quilting and patchwork. hobby startpagina
Some experts prefer pairing thread type with fabric yarn material yet, cotton thread is best compatible with cotton fabric. When comparing the strength of cotton, it seems weaker than polyester and nylon but preferable for delicate and fine projects.
It is made up after going through multiple steps of bleaching and dyeing to make it smooth. Some sort of lubricant is also used during the process.
2: Silk Thread
This type of thread is derived from filaments which makes it quite flexible and powerful. Silk thread gives you silky and shiny looks to your garments. Less effort and a little design with silk thread can turn your piece of work extravagant and delicate.
Furthermore, you can use silk for hand embroidery, mirror work, finishing hems, and stitching work.
Being the strongest thread type it won't shrink and shredded hence you can use them for decorative and long-lasting sewing projects. However, silk seems to have been costly compared to cotton.
3: Glace Thread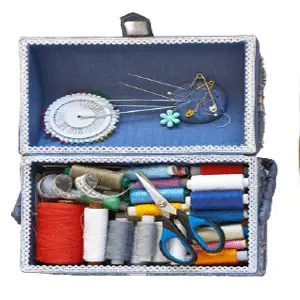 It is a type of cotton thread designed to serve luxurious and expensive items including leader and fur garments.
Glace is derived from high-quality staple cotton which makes this type pretty much attractive and long-lasting.
The glace covering over the thread gives friction that turns its surface pretty much smooth and enables it to be used under high-end speedy sewing machines.
Glace can be used for hand stitching, and embroidery, but it is mainly used in the heavy garment industry to produce fur hats, coats, leader bags & gloves.
4: Viscose Thread
Viscose threads commonly known as Royan thread across Europe are manufactured using viscose filament naturally derived from wood pulps. Despite being derived through artificial processes yet, it makes you feel a sort of natural look on clothes.
Viscose thread comes under an expensive price tag but the quality of the raw material assures you vibrant colors and long-lasting durability. when talking about breaking of thread, it also assures you 400.000 continuous stitching.
5: Nylon Thread
We usually associate Nylon thread with hemming or the kind of thread that we use for fishing. But in reality, Nylon has been one of the best options for invisible stitching until polyester threads were discovered.
Nylon monofilament thread is thick in nature having been covered with a resin material that doubles up its strength and power.
However, resin-coated nylon thread can't be used for home stitching applications as it is designed to serve industrial stitching purposes. However, resin-free soft nylon can be used for stitching at low speed. It is suitable for stitching Vinyl, canvas, canvas, and fabric.
6: Mercerized Thread
This type of thread is acquired from cotton fabrics through a process called mercerization which changes its physical appearance and properties to transform a newly formed thread.
However, the mercerization changes the kidney shape of cotton into a round that becomes more open to the process.
Mercerized fiber becomes more receptive to dye and the outcomes of it become stronger and provide you with a smoother appearance. The shape of the fiber reflects light more readily and if mercerized is done under tension the fabric may experience more luster.
7: Polyester Thread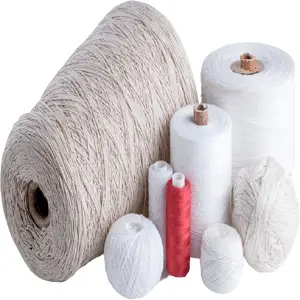 Polyester is used on a large scale when it comes to the commercial form of the thread due to its anti-sunlight protective nature which makes it the best material while manufacturing outdoor products.
It is derived from polyester chips that are further processed under multiple cycles to turn into a spinning reel.
Being the most convenient and versatile material yet products manufactured under polyester threads are robust, waterproof, and resist abrasion.
You can use them for sewing, seaming and all kinds of embroidery to be done in quite beautiful manners.
Summarizing Things Up
Versatility in threads enables you to choose the best type that is required for your project. That is why picking up a thread needs your consideration. Cotton threads are affordable and can be used to get your work done over cotton and fine materials.
Whereas, if you want to achieve something outstanding and the required material is fancy, use silk or viscose thread to achieve the best sewing, seaming, or artistic outcomes.
Good Luck!!!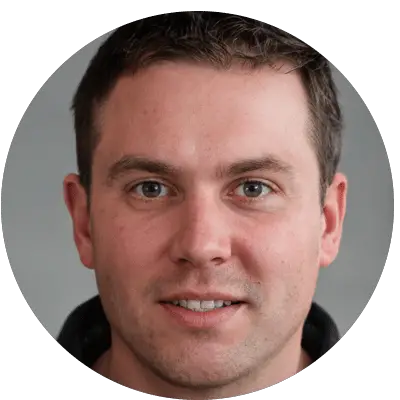 Robert Patricia
Robert Patricia is a data analytic and content creator. He has worked extensively with large data sets to glean insights for both public and private sector clients. He has used this knowledge to create compelling content for brands across the internet. Albert also enjoys creating content for websites and social media. He is an expert at creating catchy headlines and understands how to capture the attention of readers.