We independently research our recommended products. However, we may receive commissions if a purchase is made from our clicks.
The Singer 1304 Start Free-Arm Sewing Machine is a simple, flexible sewing machine.
You will not have to worry about an overwhelming learning curve when you use this baby because it's just that easy.
Singer Start 1304 Review is all about its features, the benefits of using it & most importantly the disadvantages if any. We have nothing to hide. You need to know about this sewing machine in detail before buying.
In a hurry, click here to check the Price of Singer Start 1304 on Amazon.
So, without any further ado, let's get back at the Singer Start 1304 review.
Singer Start 1304 Review: All You Need To Know
Singer: The Company
Named after Isaac Singer, the man who patented the first practical sewing machine in 1851, this company has been making quality machines for all levels of experience and types since then. 
They create products that include essential accessories such as cases, needles, and bobbins among other things to make your sewing needs easy.
One of their most famous creations was a 1910 model electronic Sewing Machine which led them into zig-zag designs with 1937's release of one similar version; they have continued creating innovative models ever since.
The Look
The Singer 1304 is a modern-looking machine, with a smooth white exterior that looks almost like it's glowing. It has calming pale blue and pink writing all over the outside of the body along with some other colors for accenting what they want to emphasize on their product. 
I first saw this at my grandmother's house when she was telling me about her favorite pastime—sewing! 
This sewing machine's friendly exterior provides an approachable face with little text or design which simply says "Singer" in large font right below where you put your feet so you know exactly what kind of quality machinery is working under those buttons if not already known from prior experience using one before. There are six built-in stitches clearly marked on its selection dial. 
Specifications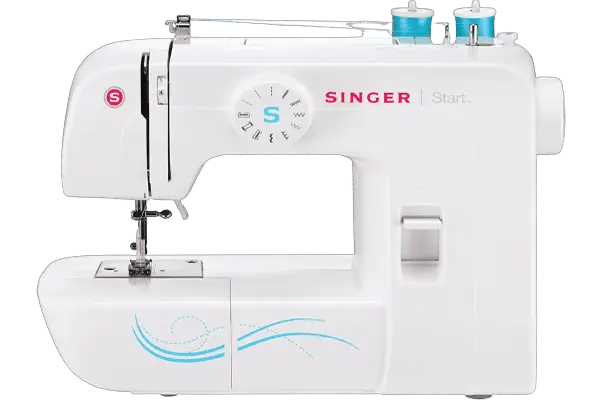 Weight: 7 lb


Dimensions: 13 x 7 x 11.5 inches


Stitches: 5 millimeter stitch width, and 6 built-in stitches: straight, zigzag, satin, blind hem, scallop, and 4-step buttonhole


Speed: 750 spm


Bobbin: Automatic bobbin winding system


Warranty: 25-year warranty



Singer Start 1304's Top Features
The Singer 1304 is a beginner-friendly sewing machine. It features all the standard components, such as an adjustable stitch length and width feature for your convenience. 
The foot pedal also has variable speeds to make it easier on you regardless of what project or fabric you're working with at any given time!
The 149 built-in stitches are perfect for novices looking to experiment, while the four-step buttonhole option will have professional seamstresses singing their praises too!
This machine has many awesome features. Let's have a quick look:
Built-in Stitches
The Singer Start 1304 is a great sewing machine for beginners because of its simplified stitch options. It has six different kinds, including straight stitching and blind hemstitches.
Swapping stitches just requires the twist of a knob to make it easy on you.
Here's a video showing the stitching options on the Singer 1304 Start Free Arm Sewing Machine:
Dual Spool Pins
The Singer Start comes with two spool pins for sewing with twin needles. This is an optional feature, but it's one that will make your creative process so much more beautiful and easier to do at the same time.
You can use this to create hems or even designs by using different colors of thread in each needle.
Quick & Easy Threading
The sewing machine comes with clear, easy-to-follow threading diagrams printed directly onto the exterior. These instructions allow even a first-time user to get their project started without much preamble or fuss.
Automatic Tension Adjustment
The Singer Start sewing machine has a great feature that automatically adjusts the tension. You never have to worry about breaking your thread and you'll be able to get back on track in no time.
Free Arm
The Singer Start has an arm that is easily removable. This not only gives you enough room to maneuver around as you sew circular items (think sleeve cuffs), but also the option of a storage tray. 
The storage comes in handy for storing some sewing supplies, as well as other odds and ends like scissors or tape measurers.
Presser Feet
Singer 1304 has 3 presser feet which can be used according to your need. 
Each foot has a peculiar function as mentioned below:
The all-purpose foot is used for basic mending & joining clothing materials. 
Zipper foot is used when adding a zipper & it makes everything easier up to piping & cording.
The buttonhole foot is used to add buttonholes to your sewing projects.
LED Lights
This LED lamp will allow you to sew long into the night or in low-light conditions, without risking your safety. LEDs last for a very long time and do not get as hot as traditional bulbs so there is no chance of injury.
Heavy Duty Metal Frame
The Singer 1304 has a sturdy frame, which is concealed inside its compact and simple body. The metal frame ensures that stitches are clean by keeping the mechanisms perfectly aligned with each other. 
I never knew such heavy-duty material was packed into this chic little machine until now.
Accessories
This Singer Sewing machine comes with a variety of accessories for both the beginner and experienced sewing enthusiast. It's a popular choice for sewing with kids, too! 
With this feature-filled package, you'll never be at loose ends when it comes to your creative projects. 
The free-arm accessory storage tray is easily accessible from any angle so that there will always be space left for more creativity.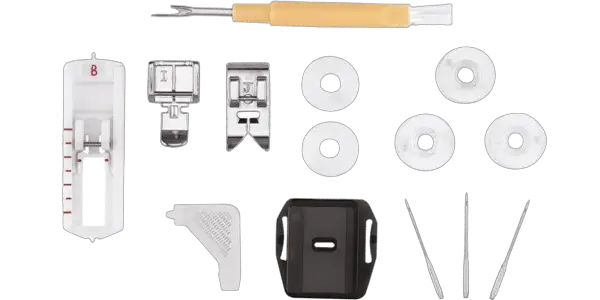 These accessories include:
Dual spool pins
The LED sewing space light
Extra-high presser foot lifter
Darning plate for free-motion sewing
Carry handle
Automatic 4-step buttonhole
Preset stitch length and width
Pack of needles
Class 15 bobbins
Needle plate screwdriver
Spool pin felts
Three snap-on presser feet: all-purpose foot, buttonhole foot, and zipper foot
Combination seam ripper and lint brush
Power line cord
Foot control
Quick-Start guide
The Warranty
The Singer 1304 Start sewing machine comes with a limited 25-year warranty. This warranty ensures that for one year from the date of purchase, Singer will repair any manufacturing defect, free of charge. 
Within five years after the initial purchase, you can get replacement parts to fix your electric motor and other electrical components completely free.
Singer Sewing Machines come with a one-year warranty that covers all defective parts, including light bulbs and belts. 
This warranty is not transferable between owners of the sewing machine; it can only be used by the original owner.
Pros & Cons
What You'll Like:
Easy setup
6 stitches
750 stitches per minute
Easy to use
Light and portable
Affordable
Stitch selection is visible
Automatic threading
What You'll consider:
Jamming Issue
Limited functionality
Alternatives To The SINGER Start 1304
You may not find a portable sewing machine of the same quality as the SINGER 1304 at this price point. However, there are several models that might be worth your attention if you're considering other options.
Singer 3232
The SINGER 3232 is a bit larger than the SINGER Start 1304. Weighing in at around twelve-and-a-half pounds, it's still highly portable. 
It has 32 built-in stitches and an automatic needle threader to make your sewing experience easier. 
You will also get: a dust cover, excellent accessories pack (includes nine presser feet!), a heavy-duty metal frame
Janome C30
The Janome C30 is portable and has a design that's easy to understand, with 30 built-in stitch designs. 
It also includes features you don't usually find in mechanical sewing machines such as a programmable needle, locking stitch button, automatic needle threader, and dust cover.
Like other Janome sewing machines, C30 is also a bit expensive. But if you are looking for a portable sewing machine with lots of functions then this will be the best for you. 
Brother GX37
Brother sewing machines are affordable and reliable. 
Their company has a knack for adding features without jacking up the price, like in their GX37 model with 37 stitches that come at a competitive cost as compared to the SINGER Start 1304's single one-step buttonhole stitch.
Overall Verdict
The singer 1304 Start sewing machine has all the features you need to make your first stitches and is also great for experienced sewers.
With a lightweight and durable design, this sewing machine is the perfect tool for any traveler who wants to sew from anywhere. 
The Singer offers long-term warranties on their products making it easy to purchase with confidence!
Missed anything? Check Singer Start 1304 review & price on Amazon
Frequently Asked Questions(FAQs)
How loud is the Singer Start?
This is the quietest sewing machine I own! Its maximum speed will please those who struggle with noisy machines, and it's lightweight enough to make stitching while listening to music or in an apartment next door easy.
Can the Singer Start 1304 sew denim or leather?
To be honest, Singer Start 1304 is not a heavy-duty sewing machine but it can handle 2 layers of denim & basic hamming of jeans.
But if you are looking for a sewing machine that can sew several layers of leather fabric then I would like to recommend Singer 4423. It is the best entry-level heavy-duty sewing machine.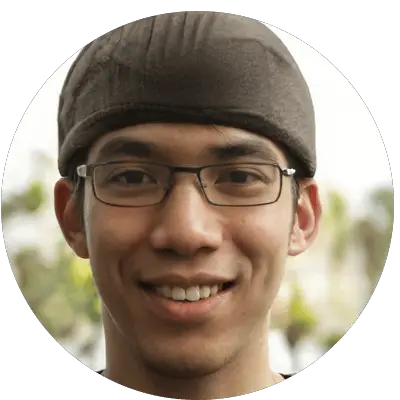 Albert Mark
Research is the key to producing good content. Albert Mark loves to write research-based articles. His articles cover topics ranging from sewing machine problems & solutions also how sewing is a great hobby that helps in fighting against depression. Albert's strength is that she can write about anything.