Last Updated on May 5, 2021 by Henry Leo
A sewing machine is one and done investment that can go either way. With hundreds of catchy options on the market that can twist your mind. You may end up buying an inferior model. For that very reason, today we bring some best heavy duty sewing machines for you to choose from.
A heavy-duty sewing machine is like a normal sewing machine but on steroids! It has a durable metal frame design, automatic needle threader, free-arm sewing, reverse stitching, and ample built-in stitches. It has the perfect package for you to leave a mark in the sewing industry.
After days of effort, we have studied the market and came up with these top 8 exquisite heavy duty sewing machines especially for you.
Comparison Table For Best Heavy Duty Sewing Machine
Product
Features
Rating
Price

SINGER 4423

Reverse Stitching
Stainless Steel Frame
23 Built in Stitches
4.5

Brother ST371HD

Free Arm Sewing
37 Built in Stitches
Automatic Needle Threader
4.5

Janome HD3000

Inbuilt Buttonhole
18 Built in Stitches
Adjustable Foot Pressure
4.4

Juki TL-2010Q

Ligtweight
Speed Control Stitching
Automatic Needle Threader
4.6

Brother ST150HDH

LCD Screen Display
50 Built in Stitches
Topnotch Bobbin Performance
4.7

SINGER Heavy Duty 4432

Durable
Reverse Stitching Master
Fan-favorite
4.5

Janome HD1000

14 Built in Stitches
Free Arm Sewing
Automatic Needle Threader
4.2

SINGER | Quantum Stylist 9960

High-Quality Stitching
600 Built in Stitches
Automatic Needle Threader
4.4
The 8 Best Heavy Duty Sewing Machine For Tailors
So without further ado, let's dive right in and see what types of Sewing Machines are indexed as the Best heavy duty  Sewing Machine to stitch heavy fabrics that they have got in stock:
Best Heavy Duty Sewing Machine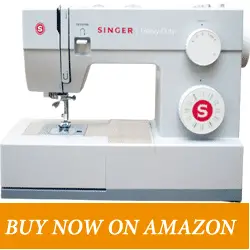 First up on our list is a fantastic sewing machine. Its performance outmatches everyone. With around 1100 stitches per minute.
Can you imagine how many projects you can complete in a day? Not only this, but the heavy-duty machine also has a durable stainless steel construction on top of it. We will discuss its quirks and features below.
Features That You Need To Know
Durability: When we are investing in a heavy-duty machine, we expect the manufacturer to remain true to its words. The machine should have a minimum of 10/10 durability ratings.
In this case, the sophisticated machine has a stainless steel construction all over it. Not only is it highly reliable but the machine itself looks exquisite.
Speed: Gone are the days of manual sewing, now you have a top-notch model that can get the work done in twice the less time. Yes, you heard it right! Now your machine will have the ability to stitch 1100 times in a minute.
Stitch Pattern: Do you have the ability to sew in multiple ways? Are you a free arm aspirant or a quilting enthusiast? Whatever it may be, the 23 built stitches in the best heavy duty sewing machine 2021 allow you to express your sewing skills in every way.
Pros
Stainless steel frame construction
1100 stitches per minute
Loads of accessories in the box
25-year limited manufacturer warranty
23 dedicated built-in stitches
Reverse stitching; free-arm sewing is present
Cons
No instruction manual in some pieces
Poor bobbin performance
Final Verdict

The best thing that pulls me towards this machine is its ability to handle every sort of fabric with ease. The machine has a sublime calibration that shows its picture-perfect performance.
Best Brother Heavy Duty Sewing Machine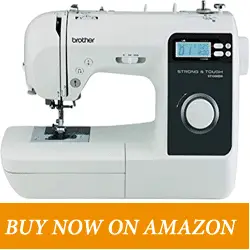 Time after time we have seen some exquisite models launched by Brother. This one is no different, from performance to style.
It is one outclass heavy duty sewing machine. Weighing a little above 6.6 kilograms the machine is a portable one.
Let's see what else this fantastic heavy duty machine has for us in-store today. Some key features about the best Brother heavy duty sewing machine are below:
Key Features That You Need To Know
Design & Quality: Firstly let's have a look at the design of this machine! Now, this patchy design is something that fits a heavy duty machine. The black square patches on the white color of the best Brother heavy-duty machine are like icing on the cake.
The spectacular machine is made from high-quality metal and this is the reason why it is on our heavy duty sewing machine list.
Auto-Size Buttonhole: Do you have issues while stitching selection? Well Brother ST371HD has made this quite easier for you. There is a stitch selection chart on the front side of the machine staring right into your eyes. On the other hand, some things that take this machine functionality are the 37 top-notch built-in stitches and the auto-size buttonhole.
Extra Accessories: Furthermore, the one about which we have seen customers complaining is the lack of accessories which they get with their package. Now, Brother is not the type of brand to leave someone high and dry. Included in the package is a DVD instruction manual, 6 sewing feet, cutters, and much more!
Pros
37 stitching options are built-in
Versatile free arm sewing
Compact metal frame with stylish design
Fantastic customer service
Comes with helpful accessories
An automatic needle threader is present
Drop-in top bobbin performance
Cons
No LCD screen display
No other major issues
Final Verdict
Available for around 200$, this is one heck of a long term investment. Why do I refer to it as a long-term one? Well, it comes with a sturdy metal frame for one and elite performance for a second. Be sure to check this out if you want to spend your bucks at the right place.
Best Janome Heavy Duty Machine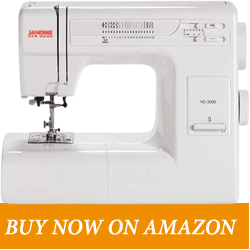 Janome is a brand that has been dominating the sewing machine industry despite having hefty prices. Why would people consider buying such expensive machines?
Well, they usually have durability, smooth operation, and efficient performance on their shopping list. When they are on the hunt for a top-notch heavy duty machine. Let's see what this supreme machine has for us in-store today.
Some notable features of the best Janome heavy duty machine are below:
Some Notable Features That You Need To Know
Weight And Dimensions: Now the very first reason that pops up in our mind. While including this Janome hd3000 sewing machine in the list was its weight and compactness.
How many times do we see a lightweight sewing machine that has a top-notch heavy duty performance? Weighing at 18.7 lbs with 10 x 19 x 15 inches dimensions, this is a supreme portable heavy duty machine.
Performance: The machine specializes in sewing perfectly on multiple fabrics. Its performance comes naturally with fabrics like nylon, wool, cotton, and silk. Now, if you are a sewist whose clients like to bring every sort of clothes for a sewing session. I'd advise you to have a look at its beauty.
Foot Pressure Adjustment: The best Janome heavy duty machine was built for a smoother operation than before. Features like a snap-on presser foot, foot pressure adjustment, and built-in needle threader make sure that it stays true to its words. You can also control and change the foot pressure easily.
Pros
Made from heavy metal material
White color looks exquisite
Reverse stitch lever is topnotch
18 varieties of stitches are present
Inbuilt buttonhole
Foot pressure is adjustable
Cons
Doesn't have an extensions table
Expensive
Final Verdict
I never had a second of doubt while including this dynamite of a machine on my list. There are plenty of reasons that stuck in my mind, but the fact that it has a lightweight design won me over it. Not quite often do we come across a heavy-duty machine that is extremely compact and lightweight right.
Best Heavy Duty Sewing Machine For Home Use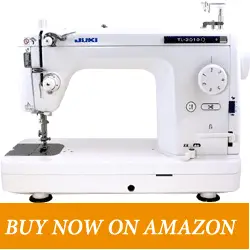 Juki is another rising brand that pays a lot of attention to its user demands. The model which we have chosen today is specifically for home-based dressmakers.
Made from aluminum, it is equipped with some nasty quilting features. This is one heck of an exciting prospect. We will review its features below.
Features That You Need To Know
Lightweight: Made from aluminum, this one heck of a sturdy sewing machine. Do you have a smaller workspace? Why not invest in this compact machine that will fit almost everywhere. And not only that, but it also weighs pretty light in comparison to some other heavy duty sewing machines.
Automatic Needle Threader: What does a sewist hate the most? Is it the sewing machine misplacing some stitches? No, absolutely not, nothing beats trying to stick the thread through the needle every freaking time.
Now, the best heavy duty sewing machine for home use comes with a swift automatic needle threader to get your worries off of your head.
Speed Control: Were you struggling to find a quilting machine that works effectively on multiple fabrics? With features like a trimmer for quilting, new speed control, and an accurate feed. Quilting will become like a hobby for you.
Pros
Perfect for quilting
Made from high-quality aluminum
Speed control stitching
Automatic needle threader comes in handy
Has a brilliant lock stitching feature
Cons
Expensive
No other major issues
Final Verdict
The machine has excellent calibration to handle multiple heavyweight fabrics. It has great results with quilting and normal sewing.
Best Heavy Duty Sewing Machine For The Money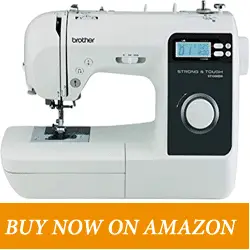 Today we have brought you yet another exciting prospect from Brother Brand. The machine we have today breaks all barriers.
It has a swift modern calibration and top-notch design to go with. You will find out everything when we review it in detail below!
Features That You Need To Know
Lightweight: First things first, the brother ST150HDH has one of the best-unified designs I have ever seen. I mean the thing could fit on a dressing table! The lightweight construction on top of this unique design steals the show for me.
LCD Screen Display: The LCD screen on the sewing machine makes everything so much easy! I mean you have your stitch selections, the stitch size, and the recommended sewing foot in front of your eyes at times.
Stitch Pattern: Moreover, the fact that the machine is equipped with a drop-in top bobbin and around 50-built in stitches speak plenty. It is a highly versatile machine that would rarely fail in any department that concerns sewing.
Pros
Value for money price
Improved compact design
Equipped with around 50 built-in stitches
9 feet adjustments included
An automatic needle threader is present
Topnotch bobbin performance
Cons
Not suitable for quilting
Poor customer service
Final Verdict
If you are tired of the traditional sewing machines that have the same dullish design. You may take a look at this eye-catching sewing machine that we have for you.
Best Heavy Duty Sewing Machine 2021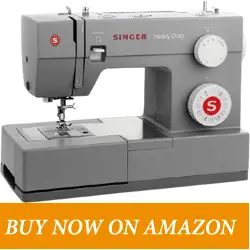 SINGER is one of those sewing machine brands that top in every category. But their specialty machines are surely the heavy duty models. Previously known for producing models with sturdy frames.
This time around they have invested their time in the performance aspect of the machine. It is an all-round machine that will land you many newer clients.
Let's see what it has in store for us today. Some fantastic features of the best heavy duty sewing machine 2021 are below:
Fantastic Features That You Need To Know
Design And Durable Metal Frame: When we look at heavy duty machines nowadays they don't have that rowdy look in them.
But this one looks like it is legit on steroids! The machine has a badass grayish look that sits perfectly on its durable metal frame. If I had to bet something on a machine that could last for decades, this would be my first choice eyes closed.
Performance: You may be thinking but what makes this machine stand out performance-wise? Why is it rated so highly by the users? Well, this can be answered with a simple reason.
The machine speaks for effective performance. The best heavy duty sewing machine outclasses everyone because of how to it deals with tough fabrics. Stitching, quilting, or crafting there is nothing that cant be done on this sturdy beast.
Reverse Stitching And Ample Accessories: Moreover, it has a master's degree in the reverse stitching department. 110 stitch applications to sew your favorite fabrics on. The stitch comes with ample accessories and a 25-year limited warranty on top of that!
Pros
A highly durable machine due to metal construction
Fan-favorite
Comes with ample accessories
110 stitch applications inside the box
Reverse stitching master
25-year limited warranty
Cons
The fabric "feed-dog" didn't work on it
Auto-threader is mediocre
Final Verdict
Not only does the machine possess a classic rugged metal frame But it also has exceptional performance on all sorts of fabrics. It is a client impresser if you ask me.
Best Portable Heavy Duty Sewing Machine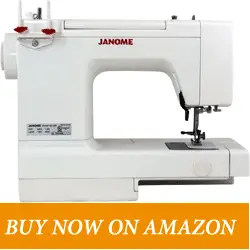 No 7, on our list is another superb sewing machine that has a very elegant design. Before we go into its fabric performance, I am completely in awe of its fantastic design.
Made from cast aluminum the body of the sewing machine is extremely durable and sturdy. How is its performance in the quilting department? Can it handle the rough fabrics?
You will find out everything about the best portable heavy duty sewing machine below:
Features That You Need To Know
Compact And Lightweight: First things first, as a sewist especially if you work from home. You don't want to invest in a massive machine that is not portable at all. For instance, if you have to move or go on holiday?
There is no way you would easily carry a 50 odd lbs heavyweight machine with you. Considering this factor, the manufacturer has made this compact and lightweight machine that merely weighs around 15 lbs.
Extra Accessories: What is the x-factor that makes a heavy duty sewing machine superior? Is it the no of stitches that it offers? Or its ability to sew on different fabrics exquisitely.
Taking all things into consideration, I would say the numerous accessories that it offers matter a lot as well. In Janome HD1000, there are jam-packed accessories, from numerous feet to extra needles, an instructional guide, and a softcover. We have it all in this bundle.
Free Arm Sewing: In addition to this, the free arm sewing experience on this machine is sublime. Sewing cuffs, sleeves, and tough trousers patches come in naturally under its needle.
Pros
Mind-blowing free arm sewing performance
A compact and lightweight body
Has a built-in automatic needle threader
Includes a bunch of essential accessories
Made from a cast aluminum combo
Equipped with 14 built-in stitches
Cons
Doesn't include an extension table
No LCD screen console
Final Verdict
Now, this is great news for tailors who are often on the road for grabbing clients. The lightweight machine has 10/10 portability numbers. Moreover, the free arm sewing performance of this machine is second to none.
Most Advanced Heavy Duty Sewing Machine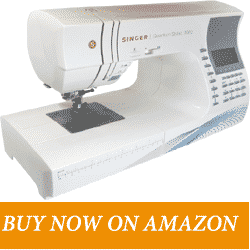 For an aspiring dressmaker, a heavy duty sewing machine that comes with a spacious extension table is no less than a dream.
The quantum stylist 9960 is truly is a beast on all fronts. From quilting to crafting, this sewing machine can handle everything incredibly well.
To find out more about it, let's get into the review. Some quirky features about the most advanced heavy duty sewing machine are below:
Features That You Need To Know
Durable: Before we jump into performance aspects, we just have to admire the lightweight spacious design of this beauty. The machine is incredibly different from other SINGER models, it is much more durable and reliable.
Stitch Pattern: When it comes to sewing, we often want to stitch creatively to impress our clients. For that, we require a bunch of stitches to make that happen. Now the most advanced heavy duty sewing machine comes in packed with over 600 built-in stitches to make that happen.
Automatic Needle Threader: This mini sewing machine is a proper workstation to realize your dreams.
Want to invest in a machine that has an automatic needle threader and a user-friendly LCD console? Or are you looking for a machine that is a quilting master! Either way, this machine has all the functions which you could ever think of.
Pros
High-quality stitching
Lightweight spacious design
The extension table is present
An automatic needle threader makes life easier
Around 600 built-in stitches
Equipped with autopilot mode
Fan-favorite
Cons
Expensive
Little bit noisy
Final Verdict
Backed by hundreds of positive reviews this is truly a machine that will take your sewing skills to the next level.
Our Highly Practical Buying Guide!
While looking for the most suitable sewing machines. We often become a little careless and end up ignoring some core features. To ensure, that it doesn't pan out like this, I have some buying tips for you below.
Things To Look Out For When Buying The Best Heavy Duty Sewing Machine
How Much Budget Do You Have:
The sewing machine is a commodity that won't be on your shopping list every other month. It is a long term investment that can take you over your budget limit. Now you have two ways to go, either go out of budget or stay in it and go for a cheap sewing machine.
Now my recommendation would be to choose a top-notch heavy duty machine even if you have to pay more.
Portability Aspects Of The Machine:
A heavy duty machine should be heavy in the aspect of performance and not necessarily weight. Make sure, that the machine which you have your eyes on is a lightweight, compact and portable variant.
What Does The Machine Offer:
As a dressmaker, while upgrading to a newer version. You always have something in mind, a specific feature that will be a deal maker. May it be an automatic needle threader, great fabric performance, or ample of built stitches. Whatever it may be, make sure that your desired choice of sewing machine has that one specific feature in it.
FAQs
What is the best heavy duty sewing machine 2021?
SINGER 4423 is the best heavy duty sewing machine. Constructed with a stainless steel frame it has durability for ages. With around 1100 stitches per minute, you can handle multiple clients at once.
What is the most advanced heavy duty sewing machine?
SINGER | Quantum Stylist 9960 is the most advanced heavy duty sewing machine. Its performance on rough and tough fabrics is outclassed.
Do heavy duty sewing machines come with a warranty?
Generally, the popular sewing machine brands will provide you with a limited time parts warranty. For a specific sewing machine, you can look at the description where you may find the warranty details.
My Final Words
Honestly sewing fashionable clothes is an art itself. Now, the best heavy duty machine is the most suitable weapon for you to showcase your talents. The machines we have today for you, are all one of the best sellers. Now, it is up to you to select the one tailor-made for you from the pack.
Good Luck!