We independently research our recommended products. However, we may receive commissions if a purchase is made from our clicks.
The Singer Quantum Stylist is among one of the most popular sewing machines of the last few years.
It is modern, computerized & also comes with lots of extra accessories that help in sewing.
Although it is not cheap but is considered one of the best machines for sewing on the market right now.
According to experts, it is a worthwhile investment. Let's take a quick round at its features of it:
Extendable sewing table with ruler
Top drop-in bobbin with clear cover
Automatic needle threader
Start/Stop button
Speed slider
Lid (when opened, has a 600-stitch chart)
LCD screen and Digital Information Advisor
The review Singer Quantum Stylist 9960 is about every, the good & the bad. You need to know about this sewing machine in detail before buying.
In a hurry, click here to check the Price of Singer Quantum Stylist 9960 on Amazon.
Without any further ado, let's get straight down to Singer quantum Stylist 9960 Review:
Singer Quantum Stylist 9960 Review 2023
The Look
The Singer 9960 Quantum Stylist is neither lightweight nor heavy. Its weight is a little over 20 pounds.
The weight & the gray color of the sewing machine gives it a professional look while the Start/Stop button stands out in green.
The machine is easy to use & also can be used for large items as it comes with an extension table. It also comes with a hardcover so when you are not using it, simply cover it up with the cover.
[table id=23 /]
Singer quantum Stylist's Top Features
This machine has many awesome features, that make it on the top of the list of best sewing machines of 2023. Let's have a look.
The Stitches
The biggest attraction to this sewing machine is the number of stitches. Singer Quantum Stylist 9960 comes with 600 different kinds of stitch patterns. Here is the breakdown:
12 utility Stitches like hemming stitch, straight stitch
34 decorative stitches including birds, flowers & satin stitching
91 sewing stitches including cross, scrolls & vines stitching
13 buttonhole stitches
450 letters, characters & number stitches in five fonts (Italic, Script, Russian, Outline & Gothic)
There is a chart printed on the upper lid of the sewing machines which will allow you to browse & select which stitch is the most appropriate for your project.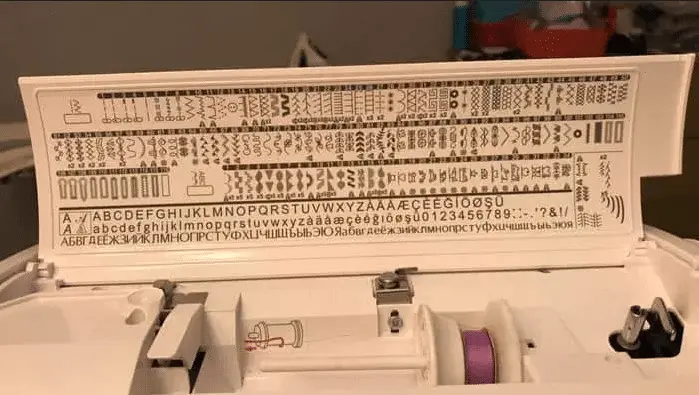 If you want to personalize items with fonts, then this feature alone would make this machine the best choice for you.
Automatic Needle Threader & Cutter
While beginners may find this feature overwhelming but it is good for experts. It will take only 6 seconds to thread the needle.
Here is a quick video on how you can do threading:
There is also an automatic thread cutter for extra efficiency too.
Although this machine is not targeted at beginners it is one of the most user-friendly sewing machines available on the market.
Top Drop-in Bobbin
The Singer Quantum Stylist 9960 has an easy top drop0in the bobbin system. It is even more clear because of the clear plate. The clear plate allows you to monitor the amount of thread left.
It also provides automatic bobbin winding.
AutoPilot And Speed Slider
The Singer Quantum Stylist 9960 comes with foot control but beginners or less confident sewers may feel at ease while using the electric autopilot function instead.
This function will allow you to sew without a foot pedal & will inform you when there is an error & also point out the area.
There is also a sliding function that controls the maximum stitching speed. The feature is ideal for beginners who require additional precision in their stitching.
Note: The Singer Quantum Stylist provides fast sewing at 850 stitches per minute.
LCD Screen And Digital Information Adviser
The machine is very advanced. It comes with an LCD screen display & digital information adviser, which allows you to easily & quickly select your required stitch & adjust width & length.
Also, it will recommend the best presser foot for you.
Extension Table
Having the extension table is a great feature, especially when you are planning to stitch large items such as curtains or blankets. Stitching large items on smaller sewing machines is a headache as the fabric is bunching up.
Presser Feet
The Singer Quantum Stylist comes with the following 19 presser feet:
All-purpose foot
Button sewing foot
Cording foot
Satin stitch foot
Buttonhole foot
Open toe foot
Rolled hem foot
Blind hem foot
Overcasting foot
Straight stitch & quilting foot
Daring & embroidery foot
Braiding foot
Even feed & walking foot
Fancy trim foot
Single welt cording foot
Accompanying presser foot shank
Adjustable bias binder foot
Stitch in the ditch foot
Zipper foot
Except for these, you can also buy additional ones.
Accessories
The additional accessories included extra needles, bobbins, a lint brush, seam ripper, screwdrivers, an auxiliary spool, spool caps, a seam guide, pin & felt, a quilting bar & shank for the presser foot.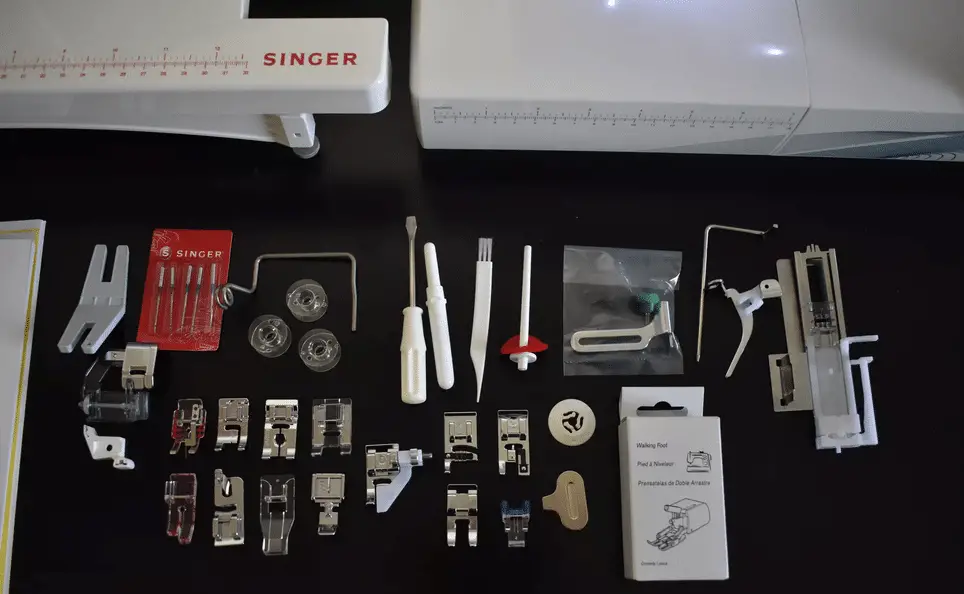 Fortunately, all these fit inside the accessories drawer of the machine. But if you want to keep the extension table there, then you need to look for another place to keep the accessories.
Hope Singer Quantum Stylist 9960 Review will help you in making the right choice.
The Warranty
The warranty ensures that during the first year of purchase if an issue occurs in the Singer Quantum Stylist 9960, the company will fix or replace the machine for free.
But after the first year, the labor cost of repair or any replacement will be billed.
The machine comes with 25 years warranty, which varies according to the following:
Sewing machine head: limited 25 years
Motors, wiring, switches, electronic components, light assembly & Speed control: limited 5 years
Adjustments, bulbs, rings, belts & attachments: limited 1 year
If you want to read the warranty document in full then you can read it here: Singer Quantum Stylist 9960 Warranty
Pros & Cons
What You'll Like:
Versatile sewing capabilities
600 decorative stitch patterns
Bright sewing area
Fast and adjustable sewing area
Includes hard protective case
Easy to use
Great for making clothes
What You'll consider:
Can't save your own patterns
Not great for portability
Things You Need To Know
Is this good for beginners?
This machine is an excellent choice for beginners as it is easy to set up many functions automatically including auto needle threader, auto thread trimmer, auto bobbin winding, auto stitch width & length adjustments & more.
By using automatic features, you don't have to focus on anything except sewing.
Does this machine do embroidery?
Yes, Singer Quantum Stylist 9960 can do embroidery. It comes with daring & embroidery feet & different decorative stitches.
You can do decorative embroidery on napkins, tablecloths, jeans & denim jackets. However, it can't be used to make patches or large logos. And also it doesn't hook up to a computer like other high-end embroidery sewing machines.
But you can drop the feed dogs & use the satin stitch to create your embroidery designs using free0hand sewing.
How powerful Singer 9960 is?
Singer 9960 uses a DC motor & hence it allows you to have a more consistent source of power whether you are using light clothes like silk or heavy fabrics like denim.
Is it suitable for clothing?
If you are interested in sewing clothes on a domestic or large scale then this machine is perfect for you.
You can create professional seams with 2 lines of stitching as there are 13 different one-step full automatic buttonhole styles.
Is it good for quilting?
The Singer Quantum Stylist 9960 is great for quilting. Many built-in decorative stitches are useful for quilting. You can change the length & width of the stitches according to your need.
Another awesome feature of Singer Quantum Stylist 9960 is that you can lift the presser foot to an extra high position to make it easier to get large quilts in & out of the sewing machine.
What kinds of fabrics can you sew with this sewing machine?
You can sew almost all kinds of fabrics with a Singer Quantum stylist 9960 sewing machine but for that, you have to change the sewing machine needle.
For each fabric there is a different kind of sewing needle:
Use 9/70-77/80 size needles for lightweight fabric like silk, georgette & voile
For medium-weight fabric like satin, linen, velvet & gingham, use 11/80-14/90 size needles
Use 11/80-14/90 size needles for jerseys, sweatshirts, tricots, swimwear & knits
For heavyweight fabrics like denim, tweed & corduroy, use 14/90-16/100 size needles
Can this sewing machine serge seams?
No, you need to purchase a serger for that.
Is Singer Quantum Stylist 9960 heavy?
It weighs over 20 pounds, so it is not considered lightweight but one can easily move it around unlike other heavy old sewing machines.
Is the frame made of metal?
The frame of the Singer 9960 is made of heavy-duty metal. It holds all of the mechanical pieces firmly in place so it lasts longer & provides skip-free sewing.
Can this machine do heavy-duty sewing?
Singer 9960 is designed for home sewing projects. It can handle home decoration projects with the right speed control & needle but it was not designed for industrial or heavy-duty work.
You can do some heavy-duty work carefully but if you need to do a lot of it then it is not the right sewing machine for you.
How good is the LED lighting?
The machine comes with 2 LED lights to illuminate the sewing area. LED lights allow you to see what is going on. And since they are LED lights they will last longer.
Can I connect this sewing machine to my computer?
No, the Singer 9960 doesn't have a port so you can't connect it to a computer. You can't create & import designs. So, you are limited to the built-in stitches.
Does the automatic tension mean I can't adjust it?
No, you can adjust it if you feel the machine is not detecting properly. Whether you are a professional or a beginner, you will know if the stitches are puckering.
Can it sew with twin needles?
Yes, it can. There is two separate spool attachment for it. If you love the look of uniform hemlines, then you can sew exactly like that with help of twin needles.
You can stitch the hem stitches like jeans, t-shirts & tops.
Overall Verdict
The Singer Quantum Stylist 9960 is extremely competitive when considering the price & features.
We liked certain features of this computerized & portable sewing machine such as a wide range of built-in stitches, an extension table, multiple font options & a lot of extra accessories inducing the 19 different presser feet.
The machine is perfect for beginners for the price & it'll grow with your kills. Another amazing feature of this sewing machine is mirror imaging.
So if you do a scroll in one direction, you can mirror & embroider a scroll in the opposite direction also. And you don't have to turn the fabric around & guess where to start sewing.
See more: The Best Sewing Machine for Making Clothes
We recommend this sewing machine for beginners as well as professionals as it is one of the most sold sewing machines of all time.
I hope You like the Singer 9960 Quantum Stylist Review.
Good Luck!!!!!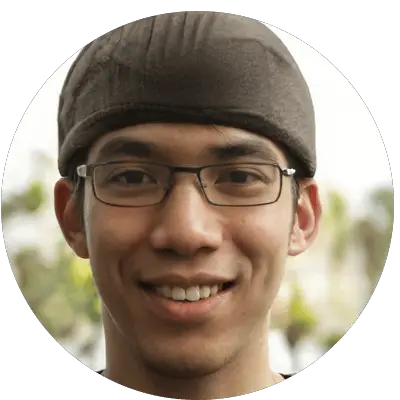 Albert Mark
Research is the key to producing good content. Albert Mark loves to write research-based articles. His articles cover topics ranging from sewing machine problems & solutions also how sewing is a great hobby that helps in fighting against depression. Albert's strength is that she can write about anything.