For beginners, identifying a sewing machine needle is a common problem.
There are different types of sewing machines needles available but they all differ in construction & usage.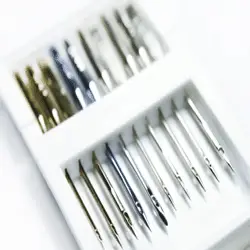 This post is about different types of sewing machine needles in detail.
Well, many are familiar with the fact including you that different types of sewing thread depend on the project you are working on, but did you also know there are different sizes & types of needles?
We use different types of needles for different purposes fabrics like quilting, embroidery or leather stitching, etc.
It does not matter, whether you are sewing by hand or machine, you will find that there are sewing needles for every task.
Anatomy OF A Sewing Machine Needle
Here is the anatomy of the sewing machine needle to identify it better.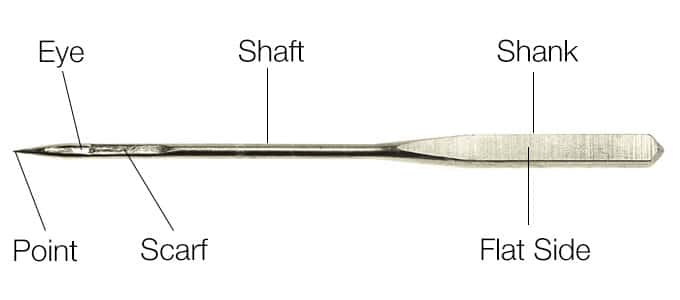 Shank:  The Shank is the head of the needle that sits in the sewing machine socket. The flat side of the needle is set to the back.
Blade:  The blade determines the needle size. We will look at needle size further in the post.
Shaft:  The shaft is the body of the needle which has an eye (hole) at the end of the needle to run the thread through.
Types Of Sewing Machine Needles
There are different types of sewing machine needles for different types of sewing materials. The needle differs in shape & also the tip is different.
Needle selection depends on the types of textile & stitching patterns.
Selecting the correct needle is as important as selecting the thread, fabric & stabilizer. The different types of needles are as follows: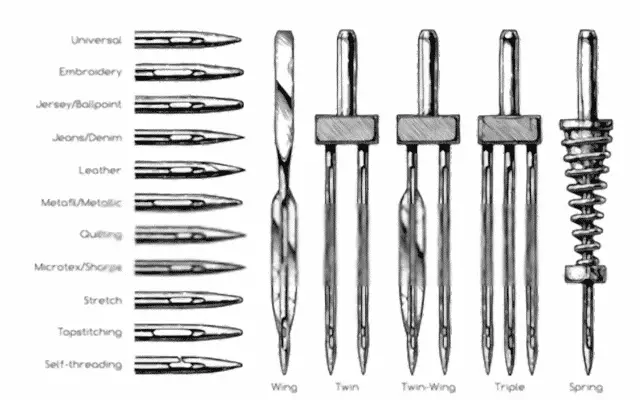 Universal Sewing Needle
A universal sewing needle is also known as a general-purpose needle. A universal needle is similar to a sharp needle but a tip is slightly rounded.
It is every designer's friend as it can be used on any fabric & for anything. You can use it for woolen fabrics to velvets, denim to cotton fabrics.
Quilting Needles
The quilting needle is very thinned & has a sharp point. If you are a designer or tailor, you will find yourself doing quilting from time to time. Since quilting involves many layers of stitching together, so this quilting needle is the best for you.
A quilting needle is designed for stippling & quilting jobs because of its shape & sharpness.
Ball Point Needles
A ballpoint needle gets its name from the shape of its tip. Because of its rounded tip, it is called a ballpoint needle. It is perfect for stitching woven fabrics. The rounded tip of this needle ensures perfect stitching instead of the piercing when stitching the smooth & soft fabric.
The ballpoint needles are of two types; jersey needle & stretch needle. Stretch needle is designed for extra stretch fabrics while jersey needles are designed for medium stretch fabrics.
Sharp Needles / Microtex Needles
As the name shows, sharp needles are fine needles with a slim sharp point. These needles are specially designed for stitching soft & silky fabrics such as woven & silk.
Because of their sharp tip, these needles give perfect stitches when stitching on leather & delicate fabrics.
Wing Needles / Hemstitching Needles
These needles come with a special wide shape. As the name suggests, wing or hemstitching needles are used for heirloom & decorative stitches on linen & Batiste.
Metallic Needles
A metallic needle is used with metallic thread. A metallic needle has an extra-large eye, a large groove scarf, and a sharp & strong tip to ensure that metallic thread goes through the fabric unimpeded.
Twin Needles
This is a special kind of needle. It has a single shaft connecting two needles. This needle makes two rows of stitching lines parallel to each other.  For this needle to work, you need two spools of thread fixed on spool pins.
Usually, twin needles are used for heirloom sewing, pin tucking, hemming, jeans stitching & decoration.
These needles work like magic, so no need to keep an eye on stitching lines being parallel & straight.
Trip Needles
This needle only comes as a universal needle. Just like the above-mentioned twin needle, the triple-needle has a single shaft connecting three needles. The machine must be triple-needle capable.
Top Stitching Needles
These needles are best for heavy decorative threads & embroidery threads as these needles have a big eye. An 18 number Universal needle also works the same.
Serger Needles
Serger needles are specially designed for overlock machines. It has a sharp tip & used on all kinds of fabrics.
Machine Embroidery Needles
Machine embroidery needles are used when doing machine embroidery. The eye of the needle is bigger to accommodate thicker embroidery thread. These needles work well with all types of needles.
Self Threading Needles
These needles are specially designed for those who may have vision problems & cannot thread a needle properly. Instead of a standard eye, the handicap needle has a vertical slot on one side that allows you to insert a thread with relative ease.
Read: How To Thread A Sewing Machine Needle
Denim Needles / Jeans Needles
Denim needles have a strong shaft & sharp tip. These needles can pass through many layers of fabric with ease. These needles are designed to stitch heavy fabrics such as jeans, denim, canvas, duck & twill.
Types Of Sewing Machine Needles Chart
Here is a table with the fabric types with suitable types of sewing machine needles & their sizes. The fabric types include wool, silk, linen, cotton, rayon, blends & synthetic.
| | | |
| --- | --- | --- |
| Fabric Type | Machine Needle Type | Machine Needle Size |
| Sheer to lightweight: Organza, Chiffon, Batiste & all microfiber or micro denier fabrics | Regular Point | 9/70 or 11/80 |
| Lightweight: Handkerchief Linen, Tissue, Silk, Challis, Chambray, Crepe de Chine, Charmeuse & Faille | Regular Point | 11/80 |
| Medium Weight: Flannel, Taffeta, Terry, Velvet, Chintz, Chino, Broadcloth, Satin, Poplin & Synthetic Suedes | Regular Point | 14/90 |
| Heavy Weight: Fake Fur, Ticking, Gabardine, Damask, Coating, Drapery Fabric, woolens & Ticking | Regular Point | 16/100 or 18/110 |
| Denim & Canvas | Denim / Jeans | 16/100 |
| Sheer to Lightweight Knits: Spandex, Single Knit, Jersey, Tricot | Ball Point | 10/70 or 12/80 |
| Medium to Heavy-weight Knits: sweatshirt, Double Knit, Sweater Knit | Ball Point | 14/90 |
| Special Fabrics: Suede, Leather, Buckskin | Wedge Point | 14/90 or 16/100 |
Related Questions
How to choose the best needle for your fabric?
Choosing the right sewing needle can make your life a lot easier as a tailor. Use the type of fabric as the first criterion when choosing a sewing needle.
When sewing with fine fabrics such as silk, and satin use a small needle-like 8/60, 9/65, or 10/70.
Use large needles 11/75, 12/80, or 14/90 sharp needles, when sewing with heavy woven fabrics like denim or corduroy.
When sewing with woven fabric or knits uses a ballpoint needle.
How Often Should I change the needle?
Blunt needles can damage your clothes, especially delicate ones. A blunt needle will catch on the fabric every time it pierces it.
Keep in mind that blunt needles can mark your beautiful dresses specially made with soft fabrics like silk, net, linen, etc
Remember to change the needle before starting a new project or at least change it after every 8-10 hours of use. If you are using Serger needles, change it after every 15 hours of use.
If you face thread breaking or skipped stitches problems change the sewing needle. In 90% of cases, the main reason for threading breaking is the needle.
You may also need to change the needle more often when it comes to stitching different fabrics. As sewing needle type varies as fabric type varies.
Tip
If you find that needle is leaving large marks on the fabric then change the needle to a smaller one.
Check Out These Posts Too!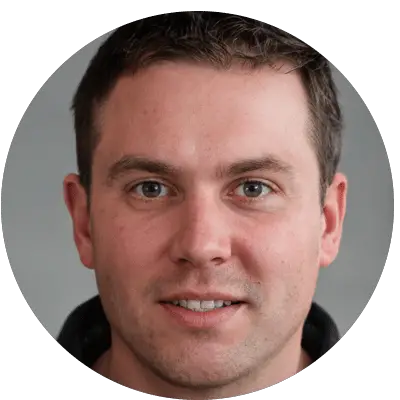 Robert Patricia
Robert Patricia is a data analytic and content creator. He has worked extensively with large data sets to glean insights for both public and private sector clients. He has used this knowledge to create compelling content for brands across the internet. Albert also enjoys creating content for websites and social media. He is an expert at creating catchy headlines and understands how to capture the attention of readers.