Get your hands on the best industrial sewing machine and start sewing some heavy fabrics without any hassle & ease your workload.
As a dressmaker, it is never a bad idea to upgrade your sewing machines if you feel like it.
However, it becomes a hassle to choose the one which has the right features and price tag. Have a look at the buying guide of industrial sewing machines.
Our Easy To Read Buying Guide About Industrial Sewing Machines
Well, you may be thinking why do I have to go through a buying guide when I have already made up my mind on the sewing machine I need? In my opinion, it is never a bad idea to look at things from someone else's perspective.
Below are some basic tips that will come in handy while you are splashing a couple of hundred bucks on a sewing machine.
Things To Keep An Eye On While Investing In The Best Industrial Sewing Machine!
1. Must-Have Sewing Techniques
When you are looking for a machine that works amazingly with fabrics like leather, canvas, fleece, or denim. It is important to ensure that it has a variety of sewing techniques required to sew these sorts of fabrics.
In this way, you will have a sewing machine that works brilliantly with multiple fabrics. And you will be able to satisfy your clients in a better way.
2. Budget Matters
It is another important aspect, which plays a part in your sewing machine shopping venture. Well, for starters you would be relieved to know that there is an open price spectrum concerning industrial sewing machines.
There are some reliable machines available for a budgeted price tag of around 200$. On the other hand, some models go up to 800$ because they are equipped with some elite features.
It is purely a subjective decision, but if you are a hobbyist who sews part-time. I would suggest you go for the cheaper options first, you can upgrade later on.
As for professionals, it is preferable to invest in the best industrial sewing machine even if it is expensive.
3. Durability Aspect Of An Industrial Machine
First things first, if you are going for an industrial sewing machine. Make sure, that it has a high-grade metal construction.
In this way, it will be by your side for years to come and you would rarely pay a visit to the repair shop.
4. Customer Reviews
Last but not least, I was a little skeptical about discussing customer reviews. But one major reason that compelled me to talk a little bit about them. It is a fact that often; you are looking for a specific must-have feature in your sewing machine.
In that case, it is preferable to read out some of the user reviews as they give you a better insight. The hands-on experience matters a lot when you take things into perspective.
This is where we pinch in! With our top 8 best industrial sewing machines you have plenty of great options to pick from.
An industrial sewing machine has huge advantages over an ordinary one. It has a better stitching speed, its automatic needle threader performs exceptionally well. Moreover, it has an industry-grade sturdy frame construction on it.
Coupled with some brilliant sewing techniques, these machines will be by your side for years to come. Industrial sewing machines require a lot of due diligence.
After spending days analyzing the market trends, we have compiled these picture-perfect reviews for you.
Comparison Table For Best Industrial Sewing Machines
[table id=17 /]
The 8 Best Industrial Sewing Machine For Dressmakers
So without further ado, let's dive right in and see what types of Sewing Machines are called the Best Industrial Sewing machines & also used for making beautiful clothes that they have got in stock:
1. Brother PQ1500SL: Best Brother Industrial Sewing Machine
It's not very often that we come across a sewing machine that has almost perfect ratings on all fronts. What makes this machine stand out from the rest?
Well for starters it has a jam-resistant drop-in top bobbin which ensures top-notch bobbin performance.
The precision feeding system is something like never seen before in a sewing machine.
What we Love About It:
Some features about the best Brother industrial sewing machine 2023 or the best sewing machine for quilting are below:
First things first, this variant of the Brother sewing machine surely has the best features. Let's talk about its interface for a second. Everything is in the right place; the sewing machine has a spacious extension table for handling fabrics easily. Moreover, compact metal construction ensures durability for ages.
Not only this but the beautiful stitch length dial further enhances the simplicity yet sophisticated. Do you often come across heavy fabrics that require pinpoint stitching? Then why not take advantage of the precision pin feeding system on the best industrial sewing machine 2023. It will sew the thickest of fabrics with great precision and land you some top clients.
Furthermore, when you are in the fashion industry, especially in the sewing department. The orders keep piling up one after the other. Well, it gets difficult to get the job done with a mediocre sewing machine. For that very reason, this Brother machine that costs around 680$ can stitch accurately 1500 times per minute!
What You'll Like:
Highly durable metal frame construction
Spacious extension table to handle fabrics
Around 1500 accurate stitches per minute
Precision pin feeding system
Some topnotch accessories are included in the box
Advanced needle threader system
Almost perfect user ratings
What You'll consider:
A little bulky
Poor instruction manual
Our Verdict
Honestly, I am highly impressed by this Brother sewing machine model. The machine has a remarkable quilting and upholstery performance. Not only this, but it also works exceptionally well on soft fabrics like cotton, wool, or nylon.
Also Read: Brother PQ1500SL Sewing And Quilting Machine
2. Juki HZL-F600: Best Industrial Sewing Machine For Canvas
The following Juki variant that we have on the table was made to handle heavyweight fabrics like canvas.
The computerized interface of the machine ensures that you are focused on handling the fabric and not the machine itself.
The machine has an exceptional capability to sew accurately on multiple layers of fabrics. We will find out more about it in a second.
What we Love About It:
First things first, the machine has a highly durable metal frame construction which earns it a 10/10 in the reliability department. Moving on, the best thing about it apart from its computerized interface. It is the fact that there is a helpful stitch chart embedded in the design that comes in handy.
Moreover, the machine is not very far off in the stitching aspect. With the ability to stitch accurately and swiftly around 900 times in a minute, it is the best industrial sewing machine for canvas and other heavyweight fabrics. The precision feeding system ensures that multiple layers of fabrics are correctly sewn.
It also comes equipped with some other necessary features. Like an automatic needle threader, around 255 sewing patterns, and a large LCD for a hassle-free sewing experience.
What You'll Like:
Computerized interface and a durable built
Around 255 versatile sewing patterns
Large LCD allows smoother operation
Ability to stitch 900 times per minute
Works great with canvas and quilting fabrics
Highly ergonomic easy to use machine
The precision feeding system is here
What You'll consider:
Expensive
No other major issues
Our Verdict
If you are looking for a sewing machine that has an easy-to-use application. You surely need to check this computerized machine out that has some exceptional modern features
3. JUKI TL-2000Qi: Best Juki Heavy Duty Industrial Sewing Machine
Next, we have an elite sewing machine that performs exceptionally on all fronts.
Were you looking for an industrial sewing machine with aluminum built? It has got you covered.
Do you often work on heavy fabrics that require precision stitching?
Well, you do not need to worry as the performance of the machine on tough fabrics is fantastic. What more does it offer? Let's find out
What we Love About It:
Some exquisite features of the Juki heavy-duty industrial sewing machine are below:
Everything in the design of this machine is on spot. From a highly spacious extension table that provides plenty of room to cut your fabrics. To the convenient stitch length and width adjustable knob on the front. The machine has a brilliant interface to work on.
Do you often feel like your sewing machine cannot keep up with the orders? Well in that case I would highly advise you to upgrade to the JUKI TL-2000Qi model. It may cost you a fortune but with around 1500 stitches per minute, you will always be able to complete your orders in advance.
Moreover, the updated LED lights on the machine further enhance its already spectacular design. In addition to this, the automatic needle threader on this machine has the smoothest operation possible. Furthermore, the pedal operation is a major deal-maker when you are working on heavy fabrics every day.
What You'll Like:
Spacious extension table for proper cutting
Elegant white design with aluminum frame
Automatic needle threader performs great
One pedal operation for swift sewing
1500 stitches per minutes
Made for professionals
Updated design with LED lights
What You'll consider:
Expensive
Poor instruction manual
Our Verdict
Apart from it being expensive, there is hardly anything I could point out about it. The machine truly justifies the price tag and it is made for professionals.
Also Read: Juki TL-2000qi Sewing Machine Review
4. Janome HD 1000: Best Janome Industrial Sewing Machine
Next up we have an exquisite black model of the Janome HD 1000. A true pioneer in sewing machines, this model is targeted at professionals.
I mean just look at the building of the machine, it deserves some due praise right?
Unlike many other sewing machines, this one is a lightweight and compact variant. We will look into it in more detail when we discuss its quirks and features.
What we Love About It:
Some key features of the best Janome industrial sewing machine are below:
The best thing about this machine is the way its interface is built. Everything related to the machine's function is correctly embedded in the design. In front of you is the reverse stitching button, stitch length adjustment dial, a helpful stitch chart, and much more.
Janome is the name of durability and reliability. Although this machine costs around 380$ it is not a bad investment at all. The lightweight machine is made from a cast aluminum combo, which is as tough as they come.
The next thing that I want to bring your attention to is its performance on tough fabrics. The machine has a sublime finishing touch on the sturdiest of fabrics like denim, canvas, and even toweling fabric.
Why is that so obvious? Well, the machine has the smoothest calibration to handle such tricky fabrics is the reason.
What You'll Like:
Mind-blowing free arm sewing performance
A compact and lightweight body
Has a built-in automatic needle threader
Includes a bunch of essential accessories
Made from aluminum sturdy metal
Equipped with 14 built-in stitches
Adjustable stitch length knob is present
What You'll consider:
Doesn't include an extension table
No LCD screen console
Our Verdict
Well, if you are looking to invest in a high-end machine why not go a step further and place your bucks on a durable one? I mean this machine has some exciting features but the design is simply eye-catching.
Also Read: Janome Industrial HD1000 Review
5. SINGER 4423: Best Industrial Sewing machine For Leather
The ample trust that the users have put in the SINGER brand is unmatchable.
It is kind of an injustice that we are relating this exquisite machine to only leather fabrics.
I mean with a stitching speed of around 1100 stitches per minute and various sewing modes. The machine is equipped to deal with all sorts of heavy & light fabrics.
It is just that leather stitching comes naturally under it. We will see what else is in store next.
What we Love About It:
Some notable features of the best industrial sewing machine for leather are below:
This is a completely fantastic machine that can be used by any class of dressmakers. Ideally suitable for a fashion designer or a professional tailor, beginners can also get plenty of training on it. Its stainless steel construction guarantees that your 180$ is not flushed down the drain.
If someone is looking for an industrial-grade machine, they are likely to come across hundreds of projects every month. In that case, why not invest in a machine that stitches with an accuracy of around 1100 stitches per minute.
The last two things that cross the mind are the loads of accessories that come with the box. And the versatile sewing techniques offered. Both of these come in handy, whilst you are working on heavy fabrics like leather or tartan.
What You'll Like:
Stainless steel frame construction
Mind-blowing 1100 stitches per minute
Loads of accessories in the box
25-year limited manufacturer warranty covered
23 dedicated built-in stitches for versatility
Reverse stitching; free-arm sewing is present
What You'll consider:
No instruction manual in some pieces
Poor bobbin performance
Our Verdict
I am a big fan of SINGER sewing machines for their durability and reliability. Previously, there were some little performance issues. Which have been comfortably resolved in this special model.
The fantastic sewing techniques like reverse stitching, free-arm sewing, and some exquisite accessories ensure that it works brilliantly on leather fabrics.
Also Read: Singer Quantum Stylist 4423 Review
6. Brother ST371HD: Best Portable Industrial Sewing Machine
Industrial sewing machines are the perfect weapon for a dressmaker who works on a variety of fabrics.
Now a day, there are a lot of materials that require some specific sewing techniques and thread.
Only top-notch industrial sewing machines like this Brother sewing machine can handle these threads. Let's find out what this Brother sewing machine has in store for us.
What we Love About It:
Some brilliant features of the best portable industrial sewing machine are below.
There are many reasons why I am recommending this sewing machine, but its compact metal frame tops the list. A sewing machine is not a commodity in which you would invest every second month. A compact metal frame will keep you away from repair shops and onto the project table.
What is the most gruesome thing to come across when you are working on an upholstery or canvas project? I mean you have the command on the fabric itself, but if your needle threader doesn't work correctly. My GOD, it becomes a headache, now with a swift automatic needle threader, you don't have to worry at all.
Stitch selection is something that cannot go unnoticed, especially if you are working in the sewing industry. As a dressmaker, it is your kryptonite to impress your clients.
With around 37 built-in stitches in the best brother portable industrial sewing machine, you can further hone your stitching skill set.
What You'll Like:
37 stitching options are built-in
Versatile free arm sewing
Compact metal frame with stylish design
Fantastic customer service
6 sewing feet are included
An automatic needle threader is present
Drop-in top bobbin performance
What You'll consider:
The small quality control issue
No other major issue
Our Verdict
If you have some heavy sewing projects, it is a fantastic sewing machine to invest your bucks in. Now, the choice is yours if you want to invest in a top-notch machine that costs only around 200$ or a costly one that has a subpar performance.
7. SINGER Heavy Duty 4432 : Best Singer Heavy Duty Industrial Sewing Machine
The next machine that we have on our list is all about high-end performance.
I mean the design on this thing is a little okayish. But in terms of sewing, nobody matches it.
This is one of the reasons why the users have proclaimed it as the best industrial sewing machine or the best heavy duty sewing machine in their eyes. From its extremely sturdy metal construction all the way to its picture-perfect performance on heavy fabrics.
This model is one for the history books! We will look into it further when we discuss it below.
What we Love About It:
Some key features of the Singer Heavy duty industrial sewing machine are below:
Before we discuss its durability score, we will look into the major aspect which concerns industrial sewing machines.
I mean as a dressmaker, the reason why you are opting for a high-performance machine is clear. You want it to work exquisitely on the toughest fabrics. With the perfect intensity, the application of this machine on heavy fabrics is unmatched.
Moving on, the metal construction on this machine is probably the reason for the little dullish design. But, it is honestly worth it, because at the end of the day. It is not how your machine looks that matters but how accurately it sews. So, get ready to grab on some new clients by investing in this proper beast of a machine.
Let's talk a little about reverse stitching here. It is one of the trickiest ways to stitch in my opinion. And this machine has a 10/10 reverse stitching performance even on leather and denim fabrics. Not only this but it also comes equipped with around 110 stitch applications right out of the box!
What You'll Like:
A highly durable machine due to metal construction
Fan-favorite by far
Comes with ample necessary accessories
110 stitch applications inside the box
Extremely great reverse stitching application
25-year limited warranty
What You'll consider:
The fabric "feed-dog" didn't work on it
Auto-threader is subpar
Our Verdict
It is a fantastic sewing machine that deserves to be on the table of a professional dressmaker. Furthermore, it is a perfect tool to impress your existing clients and land some newer ones in the process.
Also Read: Singer Heavy Duty 4423 Review
8. Juki 2010Q: Best Industrial Sewing Machine For Home Use
What You'll Like:
Easy to setup and operate
Feels sturdy
Has variable sewing speed control
Good for household
1500 stitches per minute
Also Read: Juki TL 2010q Review
Overall Verdict
Splashing your bucks on an industrial sewing machine is not a bad idea at all. Because, these machines genuinely have higher stitching speed, better performance, and excellent capability of handling heavy fabrics.
Now, you must read the reviews and select the machine with the hottest features.
Frequently Asked Questions (FAQs)
What is the best industrial sewing machine?
Brother PQ1500SL is the best industrial sewing machine. It has an awesome ability to stitch 1500 times per minute. Moreover, the precision feeding system ensures proper sewing.
What is the best industrial sewing machine for heavy fabrics?
JUKI TL-2000Qi is the best sewing machine for heavy fabrics. It has brilliant calibration to handle fabrics like canvas, denim, and fleece. Furthermore, the extension table provides the proper space for cutting fabrics.
Good Luck!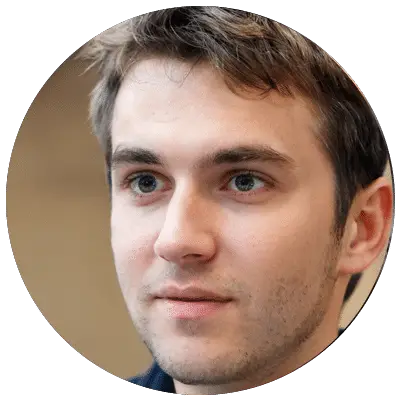 Henry Leo (Founder)
Henry Leo has a Master's Degree in fashion Designing & has worked as a test analyst in textiles. He is a regular writer for websites & magazines.