Last Updated on July 17, 2021 by Henry Leo
Have you got your first sewing machine? Are you excited enough to start working on it? Don't know how to set up a sewing machine?
No worries, follow the following steps and make sure that you have taken the required steps before starting working on your machine.
Either you are a beginner or a seasonal user there are fundamental steps that need to be followed to have smooth and secure handling.  Let's have a look at the steps to set up a sewing machine.
Steps to Set Up a Sewing Machine – A Guide For Beginners
1. Unbox Your Machine

Sewing machines come along with essential documents and manual guides if you order a brand new one. These documents include safety instructions, starting guides, warranty, and registration process guides.
If your machine is previously owned and does not include a manual guide, you can download them online.
Manual guides help you a lot in finding out required components and also guide you further about security measures and setting up components. Hence I would highly recommend you to go through all pages of your manual guidebook.
Most of the standard-size machines locate their accessories box near the needle plate so that you can have quick access whenever you want. Cross-check accessories in the manual guide to make sure that you have got them all.
2. Connect Power Cord To Your Electric Outlet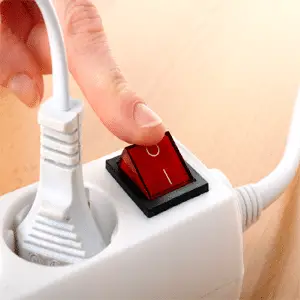 Once you have done setting up with the required accessories, the second most important step is connecting your machine with a power cord.
Modern standard size machines are mostly run having an electric outlet However there are some manual machines that don't require electric supply and you can easily rotate them using your hand.
When it comes to electric machines, some are designed to be operated with foot pedals whereas some require on/off buttons.
Just like any other electronic appliance you have to plug the wire into an electric outlet nearby and press the foot pedal a little to make sure that the machine is finally connected.
Always test the foot pedal before starting a new sewing project.
3. Set Up Required Needle
The needle is the most interesting part of sewing machines, being the tiniest one yet it holds a dominant position and turns your ordinary project up to the next level. Needles are available in multiple sizes which you can change as per the thickness of the cloth.
If the fabric you are using is made for knit then you need a universal size needle to have gripping over each stitch. To install the required size needle, turn the power off, press the foot lifter, and rotate the handwheel to lift the needle upward.
Now hold the needle and keep rotating the screw until the needle is in your hand. Now you can place the required needle over the same position and tighten the screw until it's fixed.
4. Insert Required Presser Foot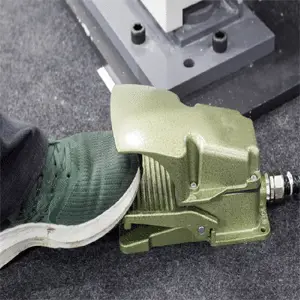 Undoubtedly, a basic presser foot comes with your sewing machine. But I would recommend you to purchase some extra to make your life easier and bring professionalism to your work.
You might receive a set of standard presser feet with your sewing machine. These are the ones you will be using most of the time for the majority of your sewing. You need to think about the stitch that you are working with.
If you are working with a stitch that has any width such as a zigzag or perhaps you want to move the needle over to one side left or right slightly you need to make sure that you are not using the foot that is designed for straight stitch foot only. Some of the standard presser foot is given as follows:
Button sewing foot
Zipper foot
Sew easy foot
All-purpose foot
Here is the detailed video on how to set up a sewing machine:
5. Load The Bobbin
Once you have done inserting the needle and picking up the required presser foot the next step comes to start basic sewing.
To thread a machine first you have to make sure that you have a loaded bobbin. If your bobbin has a small hole slip some thread from the inside outwards.
If there is no whole that means your machine is a type that has a self-winding bobbin. So you simply have to wrap the thread around the bobbin a couple of times and it will take care of itself as it begins.
6. Start With Basic Sewing
Once the winding is done, now you have to insert the loaded bobbin. On the bottom of the machine, there is typically a plate that covers where the bobbin is supposed to go. Holed the bobbin thread in P shape and inserted it carefully.
Now prepare the upper thread and pass it through a metal-shaped lever and then from the eye of the needle. Once you have crossed the thread from the needle eye then finish off by sewing it underneath the presser foot. Now turn the handwheel manually and the bobbin thread will automatically come out of it.
Wrap Up
After taking the following measures now you can begin sewing. For beginners, I would recommend beginning with paper as it will help you understand the required pedal power and managing the desired speed.
Also, try cutting on papers before on clothes. It will help you in designing different dresses or quilters as well.
However, the following steps are more than enough to start your sewing journey. If you want to learn in detail about threading you can check out our article on how to thread a sewing machine or Why Does MySewing Machine Thread Keep Breaking.