Last Updated on July 8, 2021 by Henry Leo
You cannot stop passionate sewers at short sewing projects who want to enhance their sewing expertise with all kinds of fabrics particularly with leather. For those who want a top-notch machine to experiment with heavy-duty fabric materials, a walking foot machine for leather is their ultimate choice.
These types of machines work best for heavy-duty fabric materials and do not stretch out as a regular machine would do. The internal machine system coordinates with each other to help the foot walk over the material and present a quality stitch for the final shape.
Introduction
Those who want to use an industrial-grade walking foot machine for their home usage can always choose a compact size model that is easy to use. You should definitely opt for a robust model that can sew through the thickest material without much effort.
There are a number of brands and companies that claim to have the best walking foot sewing machines but they all do not live up to the expectations. We have listed top-rated sewing machines that can work on any material along with the big size presser foot to feed an even fabric for constant stitching.
Comparison Table Of Best Walking Foot Sewing Machine For Leather
Product
Features
Dimensions
Latest Price
Juki DNU-1541S

- 2500 spm
- Centralized Lubrication
- Rectangular Feed

- 48" x 20" x 48"

REX 607Z

- 800 spm
- Manual Lubrication
- Elyptical Feed

- 13" x 7" x 8"

Consew 206RB-5

- 3300 spm
- Centralized
Lubrication
- Elyptical Feed

- 50" x 45" x 20"

Juki LU-1508NS

- 2500 spm
- Dual-Tension Mechanism
- Centralized Lubrication
- 48" x 20" x 48"

Yamata FY 1541S

- 2800 spm
- High Speed Motor
- Dual Tension

Consew CP206RL Portable

- 800 spm
- Portable
- Manual Lubrication
- 20" x 15" x 10.5"

Reliable 4000SW

- 2000 spm
- Elyptical Feed
- Manual Lubrication
- 7" x 21" x 10.5"
7 Best Walking Foot Sewing Machine For Leather
Let's go through the top 7 best walking foot sewing machines for leather to help you choose the best product in the sewing market today.
Overall Best Walking Foot Sewing Machine For Leather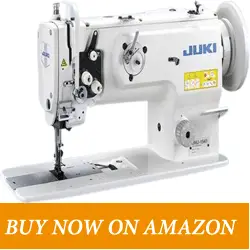 Our top of the list best walking foot sewing machines is none other than one of the most popular upholstery sewing machines in the world is the JUKI 1541S.
The machine can get you unrivaled quality, value, and safety motor features to prevent any damage. This machine is designed to stitch medium to heavyweight leather, canvas, vinyl, and upholstery materials with ease.
Things We Loved
High-Speed Stitching: No doubt, with a speed of up to 2500 stitches per minute, this machine boosts productivity level. If you have a lot of projects on your table, this will save your time and effort.
Stitching Capability: The Juki DNU-1541S model is famous for its consistent seam quality stitching, and without any trouble, it can sew through six layers of leather that too smoothly. It is better to adjust speed to a low level once working on leather or tricky corners.
Automatic hook: The machine is equipped with a centralized oil wick lubrication mechanism. This significantly minimizes the amount of time and effort required to oil the machine. Furthermore, the machine is incorporated with a walking foot mechanism to prevent oil from scattering.
Walking and Presser Foot: Another unique feature of this Juki model is its calculative ratio between the alternative movements of the walking and presser foot. It will ultimately help to sew different materials of all thickness.
Pros
Industrial-style design
Less energy consumption
Useful for both light and heavy materials.
36mm needle bar stroke capability
Centralized oil wick lubrication system
Cons
An expensive machine
Not suitable for beginners
Our Verdict
The Juki DNU 1541 is an industrial-grade machine best for small businesses or to do projects for your home. Those who work with leather or multiple layers of fabric don't want to miss a walking foot machine with a 550W motor and 9mm stitch length capability.
Best Industrial Walking Foot Sewing Machine For Leather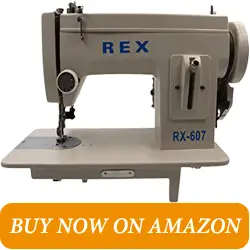 This small walking-foot sewing machine is a great alternative to larger industrial walking-foot machines.REX 607Z is one of the most popular sewing machines on the market for advanced users.
The walking feet machine with reverse stitch feature makes it the best-selling model for leather and multiple fabric layers in an affordable price range.
Things We Loved
Straight and Zigzag Stitch: REX 607Z is said to be powerful enough to tackle four layers of soft leather, canvas, vinyl, or even upholstery textiles. Its portability makes it ideal for a straight stitch of canvas work and zigzag stitch boat owners sail.
Reverse Stitching: The small size walking foot industrial machine has a reverse stitch option with adjustment between 1mm to 5mm in a zigzag stitch.
The well-designed mechanism can support between 5 to 10 stitches per inch in a straight stitch. The reverse feature is generally used to make stitches stronger and avoid any thread breakage.
Stitching Speed: In addition, to skip stitch technology, it can sew up to 1200 stitches per minute. The speed can be helpful for boat owners and small businesses. The needle can stroke quite well at such speed on heavy materials.
Foot control Feature: This Rex sewing machine offers unique features such as a built-in foot control and a built-in motor that allow users to switch quickly and efficiently.
Stitch length: It offers a maximum stitch length of 6 mm with the needle bar stroke of 30 mm for bulky projects of soft and hard fabric. The economic sewing machine comes with 15 size bobbins so you can work without interruption.
Pros
Highly portable
A 900 RPM motor
Low price
Additional accessories included
Best for leather
Cons
Small handwheel
Feet height adjustment problem
Our Verdict
If you frequently work with heavyweight materials that require zigzag or straight stitching, we highly recommend REX 607Z since it is built to handle the job and can be relied upon. The product comes in a wide range of features and capabilities to meet the standards.
Best Stitching Speed Walking Foot Sewing Machine For Leather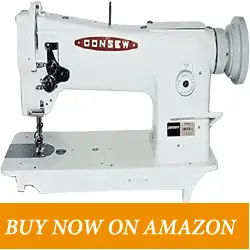 Our third pick, the 206RB-5 is one of Consew's all-time bestsellers, having been used by thousands of enthusiasts and professional sewers all over the world.
The Consew 206RB-5 is larger and heavier, making it better suited to more demanding operations like auto, boat, and furniture upholstery.
Things We Loved
Extension Table: The machine is more industrial because it is too large to be transported every day. When handling big workloads, the extra-long stitch machine, together with the extra-wide table, provides considerable strength.
Speed: The highest stitching speed of 3300 stitches per minute is amazing, and it is also extremely quiet. The huge bobbin may be easily replaced without having to remove the object from the machine's front, back, or Centre.
Reverse Stitching: The needle has a stitch length of up to 10 mm and may sew the same length in both directions. For even and precise stitching, safety clutch, walking feet, needles, and other accessories are installed.
Bobbin Winder: The machine includes another feature; a separate bobbin winder and a bobbin storage compartment. The extra-large bobbin is of great help and easy to wind, especially for those who have worked on older sewing machines.
Pros
A long stitch length of 10 mm
Sewing table and servo motor included
Industrial-grade machine
Extra Long stitch length
Easy and inexpensive maintenance
Cons
Small vibration
Not a highly portable machine
Our Verdict
This is the most reasonable product to choose if you need an industrial walking foot sewing machine with a servo motor instead of a clutch motor. With incredible stitching power and a slew of useful features, you'll find it to be a worthwhile investment for your skills.
Best Thick Leather & Heavy Material Sewing Machine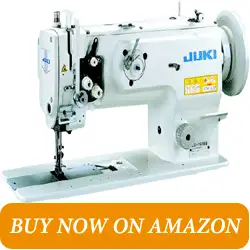 Our other selection comes from the Juki family, the LU-1508NS model machine is introduced with the unique feed mechanism for efficiency of feed and stitch.
Its capability of sewing both heavy material for industrial use and fabric stitching for general use is remarkable.
Things We Loved
Rectangular Feeding: The single needle machine with a vertical axis hook comes with an advanced rectangular feeding motion.  However, it ensures consistent feeding of material of all thicknesses without any chances of harm.
Learn How To Adjust Feed Dog Height & Position
Stitch Length: Along with many improved features, one of the best is the 9 mm stitch length that can be used for many materials and designs. A 190R needle with a sufficient needle-bar stroke of 38mm is quite a bonus for sewers.
Presser Foot: The 16 m presser foot lifting helps to handle all kinds of light and heavy fabric easily so you can achieve the same quality stitch every time.
Servo Motor: The best walking foot sewing machine is equipped with the servo motor and speed control option. This controlling feature works best for seasoned and beginner sewers when projects demand focus and low-speed stitching.
Automatic Bobbin Winder: Let's look at the most favorite part of the machine, the automatic bobbin winder. The vertical movement of your foot and pressure foot can relieve you from bobbin switching and increase productivity even more.
Pros
Smooth stitching for heavy materials
Fully assembled
2500 SPM
Dial for stitch length adjustment
110-volt power motor
1 year warranty period
Cons
Not portable
A bit pricey
Our Verdict
Juki LU-1508NS Industrial Walking Foot Sewing Machine promises excellence and many improved features for its users. The full-open-type-top design aids in adjusting functions without tilting the machine head. It is an ideal model for household use as well as industrial use since it mainly can stitch heavyweight fabrics and leather.
Best Upholstery Sewing Machine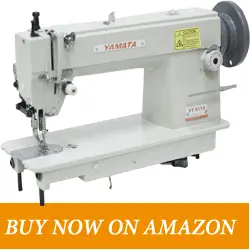 Our 5th pick is an incredible industrial-grade single needle walking foot sewing machine from Yamata. The machine is a real-life example of immense power and stability to handle heavy materials, such as leather, canvas, layers of fabrics, and more.
Things We Loved
High-Speed Motor: The table-mounted sewing machine comes with a 110-volt servo motor, that immense power can produce 3300 revolutions per minute. Sewers can stitch leather, tents, umbrellas, and stubborn fabrics with no trouble.
Stitch Speed: The Yamata model has a long stitch of 9 mm and it can go up to a speed of 2800 stitches per minute. The impressive speed can treat any light, medium, heavyweight material with quality and perfect stitches.
Walking Foot Mechanism: For beginners and experts it is an essential feature to prevent the puckering and roping effect. The efficiently designed walking foot mechanism can feed the workpiece evenly for a streamlined stitching process.
Dual Tension: Like other top brand walking foot sewing machines it has a dual tension mechanism that can support high tension sewing with thick thread. Furthermore, the built-in bobbin-winder is of great help and saves time from quick refilling.
Extra Accessories: The delivery package includes multiple pre-assembled items such as a sewing table, an SMS-500 servo motor, an instruction manual, and different belts with tools.
Pros
a 16 mm pressure foot lift
Safety clutch button on the base plate
Adjusted stitch length
Reverse stitching option
Semi-automatic lubrication system
Cons
Noisy Clutch
Professional Assembly Required
Our Verdict
The semi-industrial walking foot machine offers comfort and convenience of high level, the needle can sew through many layers of canvas, leather, and heavy-duty materials with exceptional stitch quality. Any advanced and beginner sewer can customize itself and enhance its sewing expertise.
Best Affordable Walking Foot Sewing Machine
We have another model of industrial-grade from the Consew family. The CP206RL unit is a highly portable walking foot sewing machine capable of stitching light to heavyweight fabrics.
Unlike the other models, it has a longer arm and requires the expertise of the user to set up and use.
Things We Loved
A Large Bed Space: The budget-friendly machine offers a lot more features and quality results than its competitors. The users can have a bed space of 14.5 x 7 inches, which is enough to take up bulky projects such as boat sails and king-sized quilts.
Stitching Speed: The upgraded machine can go up to a sewing speed of 800 stitches per minute. With a 6 mm maximum stitch length the machine can help you to repair denim, canvas, or leather upholstery in no time.
Powerful Motor: You can only conclude your work smoothly if you are equipped with a powerful motor. Therefore the brand has powered the machine with a built-in 11o ac motor that can be supported by deluxe foot control as well.
Reliability and Longevity: The 206RL has an all-metal body that ensures users it is a durable product with the Consew badge. Furthermore, its 30 mm needle stroke capability against all the thick leather and layers of the fabric ensures its reliability for a long time.
Portable: The heavy-duty metal body weighs 41 pounds and is compact. It weighs less than many other machines and you can carry it around for outdoor sewing purposes.
Pros
Reverse Stitching
Horizontal Oscillating Hook
Powerful motor
Durable and portable
Top industrial sewing machine
Cons
Sewing foot cannot be replaced
Can only sew in a straight line
Our Verdict
A walking foot machine is usually required when you have to sew bulky items and leather, this sewing requires working experience and handling of the machine. The Consew CP206RL portable walking foot machine is simple to use for your complicated projects and can work best with your skill levels.
Single Needle Walking Foot Sewing Machine
Our last pick is probably your best companion for sewing spongy, tough and stubborn materials and fabrics daily.
The best walking foot sewing machine provides absolute precision and its technical aspects play a significant role in standing it out among regular machines.
Things We Loved
Stitch Regulator: An easy stitch dial regulator placed on the front for easy access and adjustments. The regulator is marked with 1 to 10 different size lengths of the stitches in mm.
Reverse Lever Mechanism: The 4000SW's reverse lever mechanism allows you to stitch backward, the brand ensures that the manual operating lever won't be stuck or malfunctioned even if it is used frequently.
Sewing Speed: For heavier or smaller work the motor can go up to 2000 RPM maximum speed, with a 35 mm needle bar stroke the sewing machine is qualified to accomplish projects with different hardcore materials.
Top and Bottom Feed: The model comes with a top and bottom feed mechanism and a higher foot lift to sew medium to heavyweight fabrics like anything. The low noise and vibration are quite enough for you to carry your work without any disturbance.
550W Servomotor: The SewQuiet servomotor has an adjustable speed of 6000SM that would exceed your expectations. The motor can provide the power and torque that is needed to work with stubborn materials comfortably.
Pros
14 mm Foot lift
Large capacity hook
Budget-friendly sewing machine
Cons
Manual lubrication
1 year limited warranty
Our Verdict
When you are required to work with leather the Reliable 4000SW is the walking foot industrial sewing machine you need to finish your project in quick time. The low-budget machine with high foot clearance can handle some medium to heavy fabrics efficiently.
Buying Guides: Walking Foot Sewing Machine For Leather
There are many things you should be looking for when you decide to buy the best walking foot sewing machine for leather stitching. These buying guides will help you buy the right machine to take care of all your sewing needs and prove to be a good investment.
1. Price
Price or budget would be the most determining factor once you narrow down your options. The price will be depending upon the number of features or attachments a machine can provide and will you be using all the advanced features for your home usage or not.
2. Usage
All machines are built for different purposes, you should go for the machine that is easy at your level. A pro will have different requirements like reverse stitching options, while beginners can start with straight and zig-zag stitch options.
3. Speed
It is important to know at what speed you or your machine can work, quality machines have a range from 1800 to 300 stitches per minute. These industrial-grade machines also require a speed controller so you can work with precise stitching on corners and bending.
4. Brands
As an investor, you should look for the most reputed and renowned brands of sewing machines in the market. These brands provide quality material built and warranty period that ensures the reliability of the product.
5. Built Quality
Mostly these walking foot machines for leather are heavy-built machines made of industrial-grade steel for durability and carrying around. The tabletop or base can be of pure plywood but these long-lasting machines require maintenance costs for users.
6. Stitching Styles
These walking foot machines are a lot like normal sewing machines thus these models are no exception. They are available with a wide array of built-in stitches so you can express your creativity with excessive choice. Stitch varieties always depend upon the number of accessory pressure feet provided with the machine.
7. Warranty
It is important to know these machines do not come cheap, they are made of high-quality materials and are designed to be used for many years. It is good if you have at least 2 years of coverage for electrical parts of the machine.
8. Presser Foot
While you are taking projects of heavy-duty fabrics, a presser footer is there to hold your fabric while sewing. It can be lifted higher than normal to position the fabric layers with control no matter how bulky it is.
Some Last Word
Choosing the best walking foot machines for heavy-duty sewing is not simple. The market is full of varieties with different brands, shapes, sizes, stitching speed, and regulations.
Every feature has a role to make your sewing experience more pleasant and you will have an effortless persistent stitching result even on stubborn fabrics and leather layers.
We hope our review for the best walking foot sewing machine for leather has answered all your queries regarding these complex machines. Now you can have a broader view of these machine's functions and quality performance.
FAQs (Frequently Asked Questions)
Which is the best walking foot sewing machine for leather?
Juki DNU-1541S is the best walking foot sewing machine as it comes with lots of amazing features.
Which walking foot sewing machine is budget-friendly?
Consew CP206RL is a budget-friendly walking foot sewing machine for leather.
Recommended Reading
Best Sewing Machine For Leather
Best Sewing Machine For Advanced Sewers